With an outstanding number of 30,000 prostitutes in the country, the Vietnamese government has been taking all necessary measures to curb sex tourism industry. For tourists who would like involve in the trade, it is important to proceed with caution.
No tour operator here can help organize a sex tour for you but Hanoi, Do Son (Hai Phong), Saigon, Vung Tau… as well as some other tourist attractions are the places sex lovers are searching for 🙂 … Everything seems to be a secret until you are there and if you are a curiosity, let us know
Vietnam is a lovely nation with a variety of cultural heritages and beautiful landscapes. Whilst many tourists come to Vietnam for business, sightseeing and many other activities, amazingly enough, not a small percentage travel for sexual activities, which turns Vietnam into one of the emerging destination for sex tourists in Asia. If you are taking a tour in Vietnam and looking for sex, be careful
Facts of Sex Tourism in Vietnam
Unlike some Western countries where prostitution or commercial sex is legal, in Vietnam prostitution in all its forms is illegal and strictly forbidden. Anyone who practice these kinds of activities will face the court and might end up paying a big fine or being imprisoned. However, like almost everywhere in the world, there are people who always go against the law and in this country, it is no exception. Prostitution is banned but many people here still do the trade behind the scene.
With one of the largest numbers of sex workers (30,000+, source: doanhnghiepvn), Vietnam sits at the top of the charts when it comes to prostitution. About 2.6% of sex workers are HIV positive. Therefore, tourists who indulge in the act should be aware of this fact.
A majority of these prostitutes come from the countryside and often live in poverty. They turn to prostitution in order to make a living. Some do it to feed their children while others pay for school fees and their daily needs. Ho Chi Minh City is the most famous place in Vietnam where prostitution is mostly practiced. It has cheap prices on everything; meals, coffee, drinks and even girls. There are many massage parlors and sexual bars and this explains why many locals and tourists prefer this town to others.
In most cases, sex tours are secretly organized for tourists without the government's recognition and sometimes even involve officials who take a bribe. Many hookers or prostitutes in this country seek for customers at major tourist attraction sights like big hotels and night clubs. Here they can easily get access to tourists for their trade. They normally approach the tourists, engage in a little conversation and end up in the rooms. It doesn't all go well though. For example, if you take a strange girl to your room, be sure to take care of all your belongings because if you don't then the high possibility is you might not find the girl plus your stuff after the act.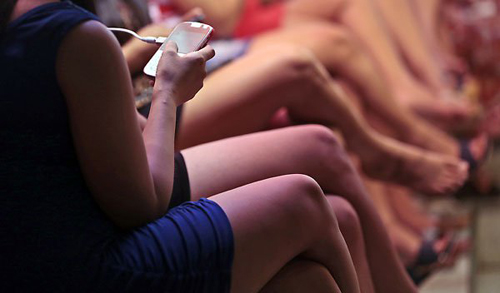 Where are most hookers found?
Due to the fact that sex tourism cannot be practiced in public and the police is on the lookout for both the hookers and the clients, many hookers and tourists find several ways to secure a date and have illegal thrills. They include:
The Internet
The digital world is a good source for sex tourists. You might come across online dating sites where direct you to hookers in Vietnam. They will start things off with conversations and ask for their money upfront. These hookers are known to resort to threats if payment is not made as required. However, you need to take further precaution if you opt for this kind of apps, in most cases, what you see and expect is not what you get.
Bar/Night club
Bars or night clubs are the most popular places you can find Vietnamese hookers. Visiting bars and night clubs, you will easily see a large number of young and pretty girls providing intimate services. Saigon has the most active nightlife in Vietnam and also a big number of sex workers. There are many bars on and around Bui Vien Street, and Hai Ba Trung Street. Some have deep and down stairs rooms where the girls stand waiting for customers.
Cycle hookers
In many cases, foreign tourists are approached by Vietnamese riding on scooters and motorcycles and are offered with an interesting "Boom –Boom". The cost of the service is negotiable but an average of twenty to thirty US dollars. Motorcycles are used as a safe precaution because if the police detect their presence, they can quickly escape to avoid being arrested. Hot spots for cycle hookers in Saigon are found in Hoa Binh park, Pham Ngu Lao or Bui Vien street.
Karaoke Venues
Another approach to get hookers in Vietnam is to scout around Karaoke venues. Some girls working in karaoke bars play the role as hostesses. They are requested to sing and drink with male clients and later take them into dark rooms or go to a hotel to have some fun.
Massage parlors/ Hair salons
Massage parlors are legal and these have been used as a loophole for commercial sex. Some usually offer what is called extras or happy ending. These two words are used to identify the sexual services hidden inside. Similarly, many prostitutes can also be found in hair salons or barber shops. They are easy to be spot and hookers often present their services as exclusive massages.
Risks of hooking up with sex workers
Bear in mind that Vietnam does not encourage sex tourism. It is important for tourists to be prepared for the consequences when they carelessly indulge in this kind of pleasure. Tourists caught in the act can also be prevented from leaving the country for an unlimited time.
Also, the chances of being infected with many sexually transmitted diseases are high. This is evident as we can see an increase in the number of people infected with HIV. Many travelers either don't get health checks before travelling or don't bother to even know their status. Some of those who are infected with sexually transmitted diseases even want to go on and transmit to others.
Many hotels do not entertain the idea of having hookers in their hotel rooms. This means you have to confirm the hotel's policy before you decide to bring your visitor to the room. On the same note, be careful with the hookers, some just like in other parts of the world, have criminal tendencies so watch out on your valuables once you succeed in bring your guest inside.
So if you are planning to take a holiday in Vietnam and want to have some sexual adventures, there are a number of things you need to know to have a memorable trip of this great country and avoid the frustration associated with ignorance. Remember prostitution is illegal in this country so it's a must to take the necessary precautions.
---
Start planning your tailor-made Vietnam tour by contacting one of our specialists…