Phnom Penh to Siem Reap Cruise
Phnom Penh to Siem Reap Cruise
Day 1: PHNOM PENH - KAMPONG CHHNANG
Board your river cruiser this afternoon in Phnom Penh and leave the big city behind with a northward journey to Kampong Chhnang. The Tonle Sap River quickly narrows and you'll have fabulous views of the riverbanks and villages as you embark on this first day's journey. Relax onboard the ship this evening, enjoying dinner as the sun sets. Overnight on board.
Day 2: KAMPONG CHHNANG
This morning the boat will reach Kampong Chhnang (or you will travel by land if the water level is low) and you get to see the rich tapestry of Cambodian rural life. Take a smaller boat through narrow streams to the wetlands where a variety of birdlife can be seen as well as enormous local fish traps, some half a kilometer long, to trap fish as they migrate from the falling lake into the Tonle River. After your afternoon excursion, return to the boat for dinner. Overnight on board.
Day 3: KAMPONG CHHNANG - KAMPONG CHAM
This morning the mouth of the river reaches the edge of the Tonle Sap Lake and you will cruise across the waters, following small canals crowded with floating houses and enjoy the views of the local lake life. Then double back to Phnom Penh and turn onto the Mekong River. Stop at the little-known Chong Koh silk-weaving village for a morning walk and continue past the Mekong's timeless villages before stopping at Peam Chi Kang village for a view of the wat, monastery or school. Overnight on board.
Day 4: KAMPONG CHAM AREA
Your last day of cruising takes you further upriver to Kampong Cham where you will visit the 8th century hilltop temple of Wat Hanchey. You'll also have time to explore Kampong Cham in the afternoon, seeing the historic Wat Nokor, the colorful local market, colonial-style buildings of the town and a center for underprivileged children. Return to the boat for a farewell dinner and final night onboard. Overnight on board.
Day 5: KAMPONG CHAM - SIEM REAP
Early morning, a coach transfer will take you to Siem Reap, stopping at Kampong Thom for a picnic lunch. Arrive Siem Reap mid afternoon.
Note: During the dry season, days 3-4 may be altered with road transfer from Phnom Penh to Kampong Cham.
Planning a trip? Ask us here
Related Tours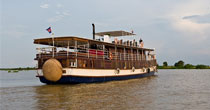 Angkor - Phnom Penh Cruise by Toum Tiou
Price from 680 $US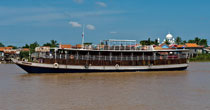 Siem Reap Phnom Penh Cruise by Toum Tiou
Price from 0 $US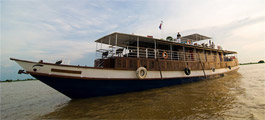 Phnom Penh - Siem Reap Cruise by Toum Tiou
Price from 525 $US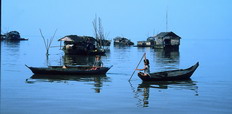 Cruising from Phnom Penh to Siem Reap
Price from 0 $US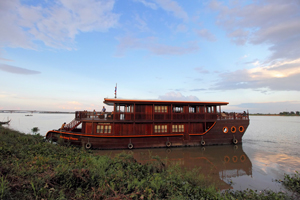 Mekong Dawn Cruise
Price from 421 $US