1. Bao Dai Palace
Provided Bao Dai, Vietnam's last emperor, with a place of rest and respite with his family. It has never been restored and, indeed, looks veritably untouched since the emperor's ousting and hasty exile.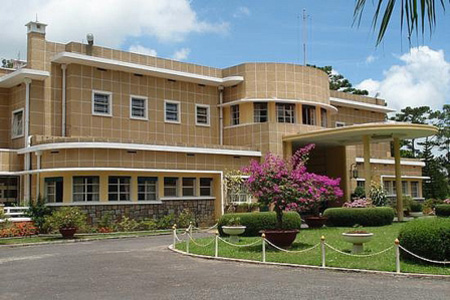 On a busy weekend in high season, you might get a rush by imagining you're there to liberate the place and are part of the looting masses — that's not hard to imagine, with the crowds ignoring any velvet ropes and posing for pictures in the aging velvet furniture. You'll be asked to go in stockinged feet or wear loose shoe covers, which makes it fun for sliding around the home's 26 rooms, including Bao Dai's office and the bedrooms of the royal family. You can still see the grease stains on Bao Dai's hammock pillow and the ancient steam bath in which he soaked. The explanations are in English, and most concern Bao Dai's family. There is pathos in reading them and piecing together the mundane fate of the former royals: This prince has a "technical" job, while that one is a manager for an insurance company. There are three other Bao Dai palaces in town, the Sofitel Dalat Palace Hotel among them, but this is the most choice.
2. Crazy house
this Gaudí-meets-Sesame Street theme park is one not to miss. It's a wild mass of wood and wire fashioned into the shape of a giant treehouse and smoothed over in concrete.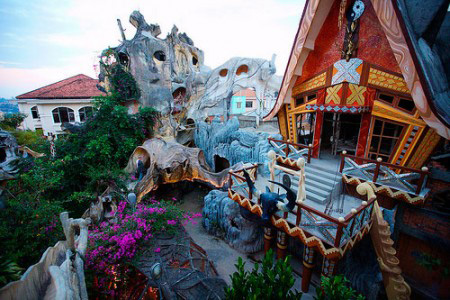 It sounds simple, but there's a vision to this chaos; just ask the eccentric owner/proprietor and chief architect, Ms. Dang Viet Nga. Daughter of aristocracy, Ms. Nga is well heeled after early schooling in China and has a degree in architecture from the university in Moscow. In Dalat, she has been inspired to undertake this shrine to the curved line, what she calls an essential mingling of nature and people. The locals deem her eccentric for some reason, but she's just misunderstood; don't pass up any opportunity to have a chat with the architect herself. On a visit here, you'll follow a helpful guide and are sure to have fun clambering around the concrete ladders, tunnels, hollowed-out nooks, and unique "theme" rooms of this huge fantasy tree trunk. It's an actual guesthouse, too, but it offers more theme than comfort. It's better just to visit than to stay. There's a small family shrine in a large common area at the back. It all spoke to me about Vietnam's refreshingly lax zoning laws, but to many it's an interesting, evolving piece of pop art. This is a fun visit.
3. Lam Ty Ni Pagoda
Review of Lam Ty Ni Pagoda: Home of Thay Vien Thuc, "The Crazy Monk". A visit with the man is a highlight for some and just plain creepy for others. The temple itself is nothing special, though the immaculate garden in the back is nice; the attraction here is Mr. Thuc's large studio. Thuc, a Vietnamese Zen practitioner, seems to be painting, drawing, and scribbling his way to Nirvana.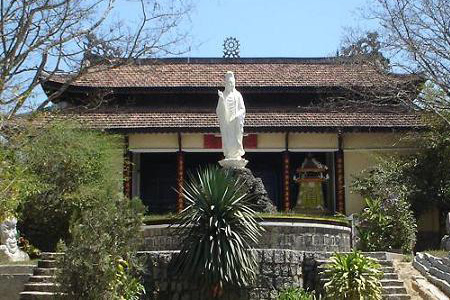 It's a unique glimpse into the inner sanctum of a true eccentric, and though locals say that he's not a real monk, just a painter and salesman, it's an interesting visit. Perhaps a polyglot afflicted with graphophilia (a language genius who can't stop drawing), Mr. Thuc has a message of "peace and connectedness" characteristic of the Zen sect, and he conveys that message in Vietnamese, Chinese, French, English, Japanese, German, and Swedish as he continually cranks out poems with small stylized drawings when you talk with him. Your part in the plan is that, for $1 (a bargain), he'll scribble an original before your eyes and pose for a photo; he has tentative plans to visit everyone who buys one of his paintings and bring us all together. Hmmm. You're free to ask him questions, browse his stacks of finished works in the studio, and sign the guest book. This is a standard stop on city/country tours.
4. Valley of love
The Valley is scenic headquarters in Dalat and a popular stopover for honeymooners. It's a good place to find some really bizarre kitsch, the kind whose precedent can only be roadside America; here, I mean guys in bear suits and huge-headed cowboys with guns that spout "bang" flags.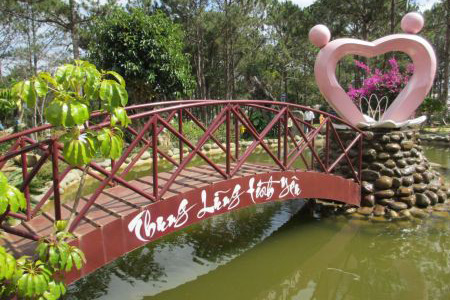 There are a few nice walking paths among the rolling hills and quaint little lakes, and everyone enjoys the antics of Vietnamese honeymooners zipping around on motorboats and posing for pictures with guys in fuzzy jumpsuits. Don't miss it.
5. Xuan Huong lake
From a dam project that was finished in 1923, demolished by a storm in 1932, and reconstructed and rebuilt (with heavier stone) in 1935. The water originates as a trickle in the faraway Lat (Chicken) Village. You can rent windsurfing boards and swan-shape paddle boats, but I've never seen anyone out on the lake (only in the brochures).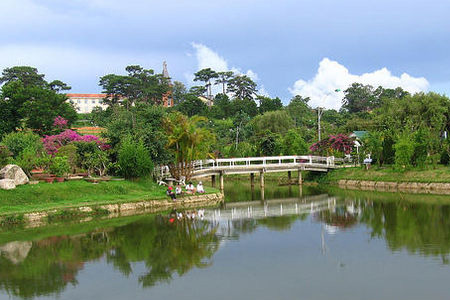 This is Dalat's other prime strolling territory (you walk here from the nearby market), and you're sure to see newlyweds, some wearing full wedding regalia, posing for pictures or staring longingly into one another's eyes as their life together begins. You'll see saddled horses and horse carts that Vietnamese tourists rent for staged photos. It's about 5 short kilometers (3 miles) around the perimeter, a nice walk in the early evening, and closer to town are some cool little local cafes over the water where you can stop for a Cafe Sua (a robust coffee made of locally grown beans and dripping with ultrasweet condensed milk).
Start planning your tailor-made Vietnam tour by contacting one of our specialists…