Pho is a Vietnamese traditional food and it is considered as specific food in Vietnamese cuisine.
History
Pho originated in the early 20th century in northern Vietnam, apparently southeast of Hanoi in Nam Dinh province, then a substantial textile market. The traditional home of pho is reputed to be the villages of Vân Cù and Dao Cù (or Giao Cù) in Dong Xuan commune, Nam Truc District, Nam Định Province. According to villagers, pho was eaten in Vân Cù long before the French colonial period when it was popularized.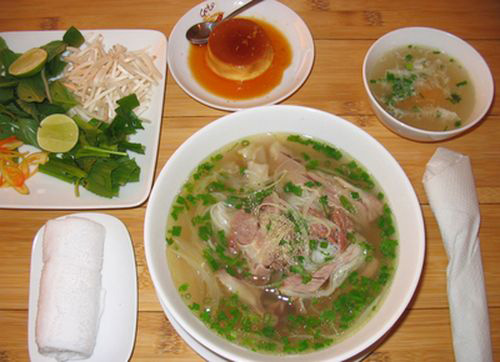 Pho was originally sold at dawn and dusk by roaming street vendors, who shouldered mobile kitchens on carrying poles. From the pole hung two wooden cabinets, one housing a cauldron over a wood fire, the other storing noodles, spices, cookware, and space to prepare a bowl of pho. Pho vendors kept their heads warm with distinctive, disheveled felt hats called mũ phở.
Hanoi's first two fixed pho stands were a Vietnamese-owned Cát Tường on Cầu Gỗ Street and a Chinese-owned stand in front of Bờ Hồ tram stop. They were joined in 1918 by two more on Quạt Row and Đồng Row. Around 1925, a Vân Cù villager named Vạn opened the first "Nam Định style" pho stand in Hanoi. Gánh phở declined in numbers around 1936–1946 in favor of stationary eateries
Ingredients and preparation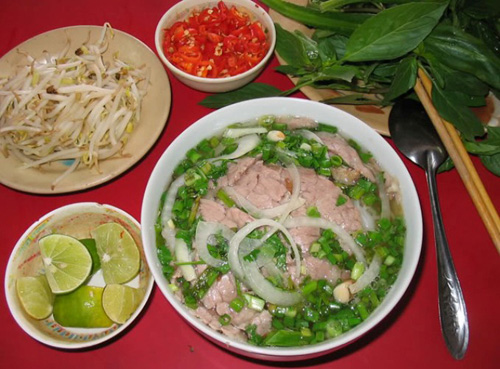 Pho is served in a bowl with a specific cut of white rice noodles in clear beef broth, with slim cuts of beef (steak, fatty flank, lean flank, brisket). Variations feature tendon, tripe, or meatballs in southern Vietnam. Chicken pho is made using the same spices as beef, but the broth is made using only chicken bones and meat, as well as some internal organs of the chicken, such as the heart, the undeveloped eggs and the gizzard.
Broth
The broth for beef pho is generally made by simmering beef bones, oxtails, flank steak, charred onion, charred ginger and spices. For a more intense flavor, the bones may still have beef on them. Chicken bones also work and produce a similar broth. Seasonings can include Saigon cinnamon or other kinds of cinnamon as alternatives (may use usually in stick form, sometimes in powder form in Pho restaurant franchises overseas), star anise, roasted ginger, roasted onion, black cardamom, coriander seed, fennel seed, and clove. The broth takes several hours to make. For chicken pho, only the meat and bones of the chicken are used in place of beef and beef bone. The remaining spices remain the same, but the charred ginger can be omitted, since its function in beef pho is to subdue the quite strong smell of beef.
The spices, often wrapped in cheesecloth or soaking bag to prevent them from floating all over the pot, usually contain: clove, star anise, coriander seed, fennel, and cinnamon, black cardamom, ginger and onion.
Careful cooks often roast ginger and onion over an open fire for about a minute before adding them to the stock, to bring out their full flavor. They also skim off all the impurities that float to the top while cooking; this is the key to a clear broth. Nước mắm (fish sauce)) is added toward the end.
Start planning your tailor-made Vietnam tour by contacting one of our specialists…