Com Ga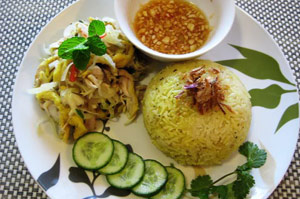 Com ga is as ubiquitous in Hoi An as pho is in Saigon on so you'll be able to find it on nearly every street corner. It's a straightforward meal of seasoned rice and shredded chicken, served with a side of fresh onions, greens and mint leaves. Nothing about com ga will change your life but it certainly makes for a filling meal when you're in the mood for something simple and fast. The tastiest spot I found was away from the city center, near my hotel on Hai Ba Trung at the family-run Cafe 619. I'll let you in on a secret though, their com ga is good, but not half as good as their savory pork. Same meal, different meat, but trust me on the pork!
Cau Lau

Cau lau is a bowl of doughy flat noodles served with bean sprouts, green vegetables, slices of juicy pork and croutons. The secret to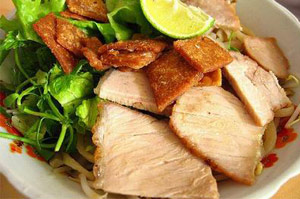 a good cau lau is said to come from the water from the Ban Le well in town. Whatever the secret ingredient may be, the taste is simply delicious! The best street cau lau can be found along the river, just outside the Citronella Restaurant near the old Japanese Bridge. They add sprigs of fresh mint into their bowl of cau lau, and it makes all the difference!

White Rose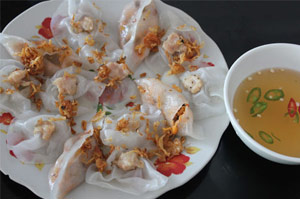 With such a pretty name as White Rose, you can expect something as delicate and light as these steamed shrimp dumpling-like appetizers. Trust me, they're small and you'll need something more substantial for a full meal. In any case, no meal in Hoi An truly starts without a plate of White Rose on the table.

Fried Won Tons
Delicate and crispy fried won tons topped with fresh ingredients is another Hoi An specialty to help start a meal right. I'm typically not one to indulge in fried foods, but the fried won tons are light and tasty, not greasy and oily. With a number of toppings to choose from such as beef and duck, as well as vegetarian options, these friend won tons can win over anyone, no matter how picky an eater.

Dessert at Cargo
Perhaps the best surprise in all of Hoi An is the delightful bakery found at the wildly popular Cargo restaurant. The chocolate cheesecake literally changed my life! It's rich, creamy and the milk chocolate topping is absolutely divine. So good that I had to have a slice three days in a row! In fact, every dessert I tried at Cargo was fabulous, including the cinnamon waffle served hot off the grill with a scoop of ice cream. Magnificent! An evening is not complete in Hoi An without a stop in Cargo for dessert and once you try one, you'll find it hard to not keep going back.
Start planning your tailor-made Vietnam tour by contacting one of our specialists…