Upgrading traditional markets in Lao Cai to attract tourists
Authorities in Lao Cai province make plan to expand and upgrade the traditional markets in Bac Ha district to promote the tourism and attract more tourists as well.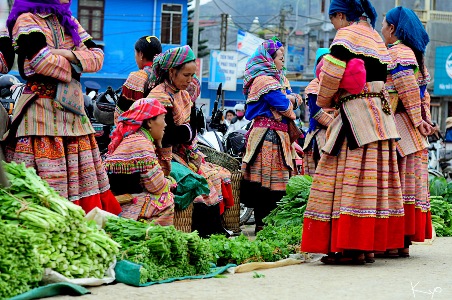 Mr. Tran Huu Son, Director of the provincial Culture, Sports and Tourism Department, said locals should be able to offer more than agricultural produce at the markets, and the space should be big enough for them to display their wares and for tourists to watch trading activities.
Apart from agricultural produce, there should be a space in the market for cultural products like khen (bamboo flute) and they can attract more tourists and buyers if they perform with the instruments, he said.
The province also plans to arrange accommodations for tourists, who wish to stay there overnight and attend the early morning trading sessions, he said.
The plan will relocate the market sites to facilitate access by both locals and tourists without affecting the daily routines of ethnic minority communities, Son said.
"We will not let the traditional markets be commercialized and lose their identity," he assured.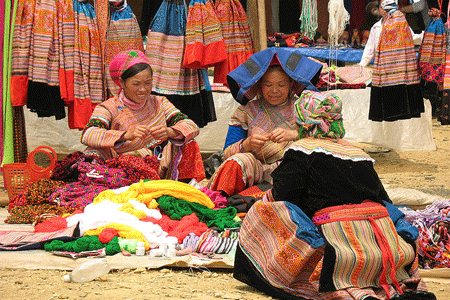 Presently, tourists flock to just one big traditional market at the heart of Bac Ha town held every Sunday morning to get a glimpse into traditional customs and lifestyles. It is the largest and most colorful market in the area and attracts throngs of villagers from the surrounding hill tribes. Some walk several hours for the weekly opportunity to trade and barter food, animals, clothes and household goods. Located at 80km from Sapa, Bac Ha Market is not only the place for buying and selling, but also a place for cultural and sentiment exchanging.
On the market days, right from the early morning, all paths and mountain roads are full of people and horses pouring to the market. Many different ethnic groups such as Flower H'mong, Phu La, Black Dao, Tay and Nung minorities gather to buy and sell local products that cannot be found elsewhere. The market was very crowded, local products for sale or barter are carried on horseback. Besides the usual items like pigs, cows, chickens, and duckss, Bac Ha Market sold dogs.
Start planning your tailor-made Vietnam tour by contacting one of our specialists…