Forgotten Laos
Day 1: Arrive Luang Prabang
On arrival at the airport, you will be met and transferred to your hotel. The rest of the day is at leisure. Overnight in Luang Prabang
Day 2: Luang Prabang –full day city tour
Your full day city tourbegins after breakfast, with a visit to the Royal Palace Museum, which hosts a range of interesting artifacts. We then enjoy a short-guided tour seeing the city's oldest temple of Wat Sene and the magnificent Wat Xiengthongwith its roofs sweeping low to the ground, which represents classical Laotian architecture. Today, we also visit the impressive stupa of Wat Visounand the shrine of Wat Aham. Following lunch, we visit the Arts and Ethnology Centreto learn about Laos' many ethnic cultures before we head out of town to see the weaving villages of Ban Xiengkhongand Ban Xienglek. We then return to the city for a visit to Wat Mai. We then climb up to the top of MountPhousifor an enjoyable exploration of the sacred, gilded stupa as well as a panoramic view of the city at sunset and the Mekong River
Day 3: Luang Prabang –Kuang Si Waterfall and Pak Ou Caves
First we visit the morning Phousi Market, where you will see such diverse offerings as dried buffalo skin, local tea and saltpeter among the chickens, vegetables and hill-tribe weavings. Laos is also known for its traditional crafts, and today you will visit local villages of Lao ethnic minority groups at Ban Ouay, a Hmong village, Ban Oua Laoloum village and Ban Thapene, Khmu villages. This then takes us to the beautiful Khuang Si Waterfallwhere you can cool off with a refreshing swim in the pools or walk along the forest trails. We then return to Luang Prabang.
Day 4: Luang Prabang – Xieng Khouang by road
Today, we leave this charming town and drive to Xieng Khouang, an area famous for the mysterious Plain of Jars.These back roads are a great way to explore the real Laos. We see very few other travellers, mostly rural dwellers who are just as interested in finding out about our lives as we are of theirs. The drive is very long, but we can make many stops at our pleasure, to stretch our legs and take some wonderful photographs. In the afternoon there will be time to see the old capital of Muang Khoun Province and its' nearby villages. Overnight in Phonsavanh
Day 5: Xieng Khouang - Vang Vieng by road
The "Plan of Jars" is an impressive archaeological site where hundreds of large stone jars are scattered all over a plateau. These huge jars are supposedly over 2,000 years old, but most of archaeologists still question their purpose. We have time today to explore the site and some nearby villages, populated by the Hmong hill tribe and Tai Dam people; they are very poor but possess a vibrant local culture and an interesting history. We leave Xieng Khouang for our scenic drive to Vang Vieng, a small town, which is nestled on a bend of the Nam Song River. Its stunning scenery with its limestone outcrops remains unspoiled, despite recent developments with the advent of tourism. Depending on road and traffic conditions, we will arrive at Vang Vieng by mid or late afternoon. Overnight in Vang Vieng
Day 6: Vang Vieng - Vientiane by road
An impressive way to start our day is a walk around the bustling central market. Heading out of town we enjoy a short bamboo raft along the Namsong River, which gives us a taste of adventure. The limestone cliffs and valleys surrounding the resort complex of Vang Vieng are home to numerous caves and caverns. The most famous in Vang Vieng is the cave of Tham Jang, which was used in the early 19th century in defense against the Chinese invaders. We also cross the river to Ban Huai Ngai, a very pleasant village where we can explore the different local lifestyles. We bid farewell to Vang Vieng and drive to Vientiane. Located on the banks of the Mekong River, this capital conjures up exotic images, with a curious mix of Lao, Thai, Chinese, Vietnamese, French influences. Overnight in Vientiane
Day 7: Vientiane City tour
Our full day sightseeing tour of Vientiane commences with a visit to Wat Sisaket, the oldest temple standing in Vientiane. This amazing structure features remarkable frescoes and Buddha statues. The following sight is the former royal temple of Haw Pha Kaew, which previously housed the famous Emerald Buddha Image. We also visit the imposing Patouxai Monument well known as Vientiane's own Arc de Triomphe before continuing to the great sacred structure and symbol of Laos, That Luang Stupa. We also head out of town to see the Buddha Park, a scattered enchanting collection of Buddhist and Hindu sculptures on the Mekong Riverside meadow, near the Friendship Bridge. There are approximately 200 religious images dating back over 500 years, which were created by a mysterious monk spreading his philosophy on life and revealing his ideas about the universe. Admiring the spectacular view over the Mekong River at sunset from one of the riverside bars is a perfect way to finish the day. Overnight in Vientiane
Day 8: Vientiane - Departure
Am: Have breakfast at hotel. This morning you have more free time to relax at hotel or walk around for more exploration. After that depending on your flight our driver drops you off the airport for taking flight departure.
End of tour.
Planning a trip? Ask us here
Related Tours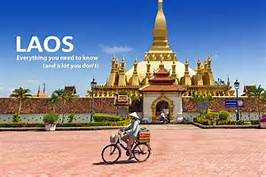 Laos Special
Price from 1360 $US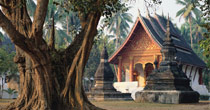 First time in Laos - Classic package tour in 10 days
Price from 1080 $US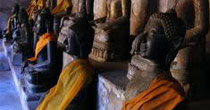 Heart of Laos - The capital Vientiane classic tour
Price from 0 $US
Vientiane and Luang Prabang combined - Laos stopover
Price from 0 $US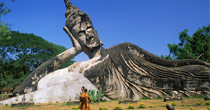 Essentials of Laos from Vientiane to Luang Prabang
Price from 315 $US