The Lost City of Mrauk U
Day 1: Yangon - Sittwe
Transfer to the airport in Yangon for your domestic flight to Sittwe. On arrival in Sittwe, the capital of Rakhine State, visit the colorful fish market and the Cultural Museum. Overnight in Sittwe.
Day 2: Sittwe - Mrauk U
Following breakfast, cruise upstream along Kaladan River on boat trip to Mrauk U (appx: 5 hours), a major archaeological site in Myanmar. Mrauk U was once an important trading post with links to Portugal, Holland, Arabia, Persia and India. Almost forgotten, you'll have the chance to rediscover this town and see this multi-national influence on the city. Arriving in Mrauk U at midday, you will witness the former grandiose of this ancient town, famed as Myanmar's second eminent temple site after Bagan. Overnight in Mrauk U.
Day 3: Mrauk U
Enjoy sunrise from the top of the hill. After breakfast continue sightseeing in Mrauk U with a visit to the market, the ruins of the Royal Palace and the Archaeological Museum. After lunch, visit Shitthaung Temple, Mrauk U's most important monument, built in 1535 by 1,000 architects and containing a remarkable collection of Arakanese Buddha images and reliefs. Continue to the multi-spire Andawthein Ordination Hall, with its unique stone carvings, the circular Ratanabon Pagoda, Dukkhanthein, a huge fortress-like temple with vaulted passages containing interesting stone sculptures and Laymyetnha, the first pagoda erected in Mrauk U in 1430.
Day 4: Mrauk U - Yangon
After breakfast depart with the daily speedboat from Mrauk U to Sittwe. On arrival in Sittwe transfer flight to Yangon.
Excursion to Tattooed Chin Tribe villages can be arrange for extra one day in Mrauk U After breakfast transfer to Sayoh jetty (approx: 30 min). Then, take a boat along the Lamyro River to the remote Chin tribal village. The women in this village are decorated with tattoo on their faces. Stroll around the village or trek to another village before returning to Mrauk Oo by boat. Stay overnight in Mrauk Oo.
Planning a trip? Ask us here
Related Tours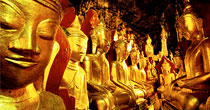 Last Golden Land in Southest Asia - Myanmar tours
Price from 1420 $US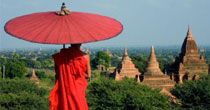 Myanmar Customize Tours
Price from 1868 $US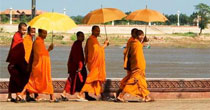 Discover Myanmar at the edge of new era
Price from 1520 $US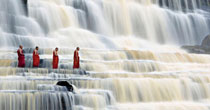 The Very Best of Myanmar
Price from 729 $US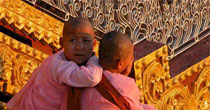 Yangon & Golden Rock Tour
Price from 576 $US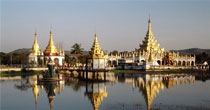 Typical Myanmar - Lost world recovery
Price from 765 $US