Hoa Loc mangoes – Specialties CaiBe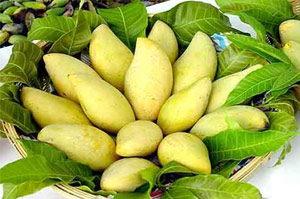 Hoa Loc mango is one of the most popular mango varieties in the Mekong Delta – Vietnam and is one of the fruit is favored by attractive color, delicious taste and high nutritional value. In recent years, Hoa Loc mango bring high economic value for people of both her ​​children Ben Tre and Dong Thap. Hoa Loc mango average weight 350-450g/qua, oblong shape, yellow skin when ripe, bright yellow flesh, flesh structure, smooth and low in fiber, tastes delicious and aromatic.
Particularly in Tien Giang, Hoa Loc mangoes are grown mostly in Cai Be district with more than a thousand hectares, annual production of about 15,000 tons, concentrated in 13 communes of Hoa Hung Huu An, An Thai Trung, Tan Hung, Tan Thanh, My Luong, An Thai Dong, U.S. West Germany, East Germany U.S., Tri, Khanh Hoa, Hau Thanh and Dong Hoa Hiep. In addition, it is grown scattered in other districts.The origin of Hoa Loc mangoes are grown in the Hoa Loc, educational institutions, Dinh Tuong Province now the village of Hoa, Hoa Hung commune, Cai Be district, Tien Giang province, should be named Hoa Loc mangoes.
This is a land of rich alluvial river nutrients, are suitable for Hoa Loc mango growth and development.Due to good quality, flavor should present Hoa Loc mango varieties are grown for industrial scale. However, there are many ideas that Hoa Loc mango when grown in other places is not as good quality at its origin.Currently, Hoa Loc mango has been cultivated in several provinces in Cuu Long River Delta and some eastern provinces of southern Binh Duong, Binh Phuoc, Dong Nai, Ba Ria – Vung Tau …. Tien Giang province in 2004 to conduct the project "Building a model of cooperatives (cooperative) consumption VAC Hoa Loc mango trees" in Hung Hoa, Cai Be district, Tien Giang province with total investment more than 194 million.
In particular, the Vietnam Investment Gardening 110 million, the remainder by local people to contribute. The project was carried out on 10 hectares of Hoa Loc mango Hoa Loc mango by cooperative management. Cooperative with members responsible for guiding the application of scientific and technical advances in intensive farming, harvesting, storage Hoa Loc mango towards using organic fertilizers, use of plant protection drugs selectively to goods of high quality, marketing push to expand output Hoa Loc mangoes.