The good natural conditions in the delta of many waterways have created abundant specialities. Furthermore, this land is home of some ethnic groups like Kinh, Hoa, and Khmer, so that Can Tho people have a lot of dishes and diverse culinary ways. Upon coming here, we will have chance to enjoy specialities full of characteristic tastes.
Lau mam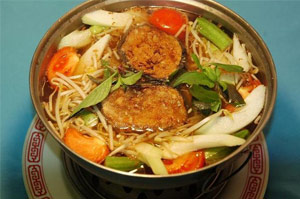 Main ingredient of the dish is salted fish (made of ca linh (a species of small fish) or murrel, gourami, catfish, anabas, dwarf catfish, etc.,). When boiling the dish, it pervades distinct and mouth-watering smell of salted fished. The dish has other ingredients such as mixed lean and fat meat, eel, snail, soya curd, and so on. However, the most attractive and mouth-watering character is colour of dozens of vegetates namely lotus rootstock, water-lily, colza, coriander, banana inflorescence, water hyacinth, balsam-apple, duck potato, etc. This disk creates distinct flavours of the hick area.
Thanh Van Nem Nuong
This dish is made in Thanh Van restaurant that has been famous since 1975 forward. The dish is processed meticulously. The fresh meat is crushed in stone mortar, then mixed with spices and grilled on wood-embers. Eat this dish with steamed rolls made of rice-flour or rice vermicelli, and various vegetables, and so on. The restaurant is crowded with table companion in both normal days and holidays.
Banh xeo (rice pancake folded in half)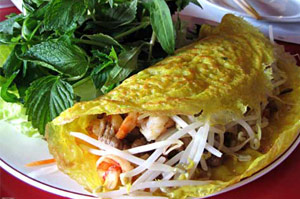 Ingredient making the cake is rice flour, coconut quintessence, saffron, shrimp, meat, and so on. Eater can enjoy the cake with some vegetables such as salad, colza, etc., and fish sauce with chilly and garlic. Should enjoy this cake with hand to feel fully its taste of sour, hot, and sweet.
Banh tet la cam" (one kind of cylindric glutinous rice cake)
"Banh tet la cam" has distinct taste. It is made from fragrant sticky rice soaked with la cam to get purple colour. Fry sticky rice with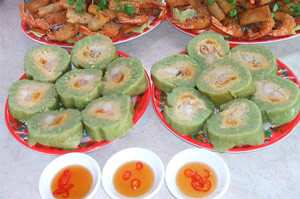 coconut quintessence during 4 – 5 hours. When sticky rice is well done, it have velvety purple, covering stuffing of meat, egg, grease, green bean, etc. Covering the cake demand skilful hands to make it done to a turn completely. The cake is cut and laid out on plate, it looks attractive with different colours such as green, red, purple, yellow, and brown. Visitors can buy the cake for their relatives and friends.
Can Tho banh cong (one kind of cake)
Main ingredient of the cake is rice flour (combine with completely ground green bean), meat, and 2 -3 fried little shrimps put on surface. The cake is spongy but brittle with mouth-watering colour as required. The cake is enjoyed with some raw vegetables
This is a savoury dessert well known all over the southern delta. Green cover of grapefruit is whittled, then soak its white pump into salt water until it is not bitter anymore. Then cut it in small and cook with peeled green bean in sugar water. Pour coconut quintessence when enjoy the dish. This compote is tasty full of southern characteristics.
Broiled mullet
Gastronomes can select mullet at medium size to broil hence it is well done. The fish is covered with clay, then broiled by straw or dried wood until the clay cover is dried and split. Take off the cover with fish scales, you can see white flesh of fish. The mullet can be enjoyed with some raw vegetables and fish sauce, chilly, garlic, shrimp paste, or peppers and salt or ginger salt to make it more tasty. The dish is rather savoury with different tastes such as sweet of fish's flesh, bitter of broiled fish's skin, fat of fish's entrails to form characteristic flavour. Eat the dish with hands to see real taste of the rural lifestyle.
Gruel of mullet "rau dang" (a species of a bitter vegetable)
Make a low fire for the gruel pot, then put vegetable and mullet into the pot. Wait until gruel done to a turn, then take mullet out and enjoy with Phu Quoc fish sauce. The delicious and nutritious mullet eat together with a little crisp "rau dang" and gruel. The dish will be more tasty if includes chicken egg. Enjoy the dish, we will be surprised and satisfied with the combination of sweet, fat, and hot tastes.
– Hoa Su restaurant : Bãi Cát, Ninh Kiều district. Tel: 071.820 717.
– Dạ Lý restaurant: 83, 3/2 road, Ninh Kiều district. Tel: 071.838 764. Specialize in: Lau Mam
– Ngọc Mai stall: no 131, 3/2 road, Ninh Kiều district. Tel: 071.838 764.
– Cần Thơ guest house: no 41 Châu Văn Liêm, Ninh Kiều district. Tel: 071.820 356. Specialize in: Bánh xèo.
– Hoa Cau: no 04 Hai Bà Trưng, Ninh Kiều district. Tel: 071.816 101.