Specialty melon mango Cu Lao Gieng (An Giang)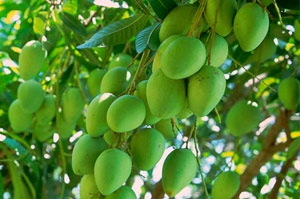 "Cu Lao Gieng" (Xuan Binh Phuoc commune, Cho Moi district, An Giang province) green fruit throughout the four seasons. This place is a specialty of pickled mango, which is being sold in many supermarkets across the nuoc. Xoai n Mango non approximately equal toe, peel, cut, or a cut from, for water-seeded and soaked. Then we washed, salted and then discharged again bring the marinade with chilli caramel crashing water. Then to have spicy mango into plastic bag, tied the mouth, placed in Styrofoam boxes, water ballast stones.
For a delicious mango pickle pieces of spices is the secret of the correct dosage but do not use alum or borax to produce brittleness. Currently on the market sell mango pickle 22,000 VND / kg. For years, coconut mango is very popular appetizer in restaurants, pubs in the city of Long Xuyen, An Giang. While waiting for the food, guests were served the dish with a plate of salt and chilli mango pickle small to "sip get momentum" for free. Loading pads saffron pickles put up biting mouth, teasing the hearing that "have", chewing lightly: sweet sour salty fast absorbing in its mouth. Want to salty, sweet and spicy "heavy" than the dot on the plate with salt and chilli pickle. Mango pickle dish is also played by the girls.
Dried beef, Thai fish sauce, specialty renowned Chau Doc
The proverb says it partly on land of Chau Doc, An Giang Province has many good breeds, famous all over the country, first for agriculture, farming as food waste, which is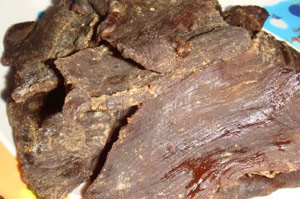 the specialty dried beef consumption expression. What is the current economic Yongji economic history by Ngoc Hau Voice mobilized workforce training from Chau Doc to Ha Tien is now the cultural facilities, convenient transportation critical of An Giang province.Chau Doc has many specialties you: Thai sauce mixed with boiled bacon; boneless tiger snake massage lotus salad, fried beef and yellow leaves of mountain specialties Sam cotton processing fish, snakehead fish, snakes, pythons, turtles … wild boar meat from chronic aquatic Vietnam – Cambodia split shipped.
That's specialties in place to enjoy excellent flavor charming Southern style, hard to find in other locations.Also a specialty that visitors have a chance to visit or attend Ms. Chua chickened Chau Doc, on the way certainly indispensable gift for friends and family. It is dried beef dish, a specialty has become renowned tourists familiar domestic and foreign preferred.On the market, visitors will identify three types of dry cows: Type of hard yellow and brittle; of hard dark brown but brittle; of brown porous, brittle and plastic.
To make a delicious piece of dried beef, producers must select the best materials. Choose dried beef, generally make choosing the meat, ham use. Because cattle missing, many production facilities for both belly meat, meat sides, even with near. Dried beef production is mainly done manually. Processes that determine how quality is marinated, seasoned, dried … according to its own secret recipe and each type of dry cow has its own characteristics.
This is kind of dry food in the party appealing, festivals, rich flavor, full of protein factors with the salt, sweet, fatty, spicy, aromatic … used as an appetizer before entering the party. Dried beef specialties Chau Doc was awarded gold medals at the fair period; many years been Scientific Committee of An Giang province techniques recognized quality standards, with modern manufacturing processes, sanitary . Chau Doc current production and consumption of dried beef in bulk, about 7 to 10 tons / month.