Cakes Soup Da Nang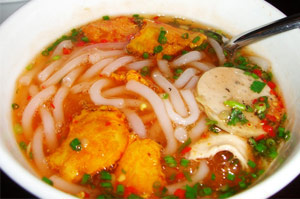 Those who have visited Da Nang must have more than one occasion to taste the famous pancake place. I still like pancakes in Da Nang because it's not just small enough to "do" like cookies pleasure, but do not make as big in Saigon. Danang pancake made ​​from ground rice flour and egg yolks are added turmeric powder, casting on the hot pan. Shrimp is crawfish, crayfish also jump crackling. Fresh meat, bacon and left only half lean half fat. Vegetables in addition to ordinary speakers such as vegetables, lettuce, basil also necessary to have enough banana, vegetables … the sauce is prepared from pig liver and form a ground peanut sauce flavored fleshy fleshy, fatty acids, beside a bowl of chili garlic sauce mixed with traditional Chinese culture. Add approx thin rice paper or tree leaves can be bigger hands can replace cake for his pancakes…
Just do not eat pancakes long long, cold wind just rain, it gets cold again, then suddenly Danang people remember pancake. When preparing a meal and auxiliary materials such as price, meat, nuts finished, people started to pour pancake. Everyone in the family gathered around the stove luxuriant together "pan, pan, pan" just warm the poetic medium. The ground floor pans relatives are presented on a stove that looks like the fried fancy gongs. Once the pan is hot, people use a handful of peanuts body absorbed around the pan and place in pan a few shrimp and chopped bacon only. Meat was marinated shrimp and sauce, salt, spices and cooked for a brief lice. Nine fragrant oil, use rice flour and water into the pan. Powder having hot oil emits cries "pan, pan" happy ears to hear. Perhaps because these sounds that people named pancake cake is reasonable?
Standard eat delicious pancakes thanks sauce, crispy bread to moderately greasy smell of peanuts, sweet shrimp and lean meats, green vegetables have all kinds, a lack of these factors are not the a delicious pancake disk. New hot to eat cake in style, ie as to where to eat there and do not use chopsticks when eating with your hands only. When enjoying pancakes in addition to using smell, taste, the food required to use the tactile, auditory see all appealing.
Danang pork rice paper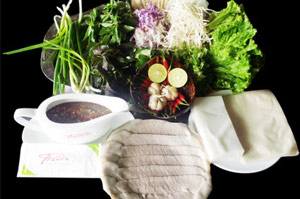 Pork rolling cakes are coated with the people of Danang increasingly favored by the fusion between the excellent, excellent, flavor
This dish does not require processing in a fussy, boring at first glance you quickly assess the simplicity of it. Because it focuses on how to choose foods that fresh, ensuring the flavor of the material.
Just hearing the names of dishes, you can even guess the secret of his cakes coated pork meat located in the disk. To pick the most delicious meats, we only select pigs weighing 50-70kg, and took the butt or shoulder of the pig, then steaming them slightly to keep the sweet taste of dark meat color
Next to the vegetables are raw materials required for this dish, roll book that does not eat pork with vegetables, it is tasteless. The vegetables here are all common vegetables, very easy to find. But to ensure a fresh green, wilt not require it to be very skillful chef in the selection stage. With each summer rolls meat, diners will surely never forget the sweet taste of dark meat combined with the freshness of salads, hot taste of basil, cinnamon and sour acrid sting of banana fruit and contracts.
And finally, sauce seasoning sauces can not substitute for this dish, if you use rice paper book with a pork sauce will lose any flavor of fish, hot taste of garlic peppers. That's what everyone should do when broth tasted pork roll book.
Handle the cake, gently fold the piece of pork over the vegetables are rolled into the cup sauce dotted wedge, then when biting into the cake, the long strips of rice paper side, the soft pieces of bread wet add a little color sweet meat, the freshness of the vegetables and spicy sauce will help you realize that even in the era, food is culture of regional monopoly. If you enjoy this dish over the spelling of words I'm sure you still feel the taste of it all.
Veal Cau Mong
One of the culinary specialties of Danang, was on par with wheat Quang was completed on the "Veal Cau Mong" is a dish impossible not to mention the culinary journey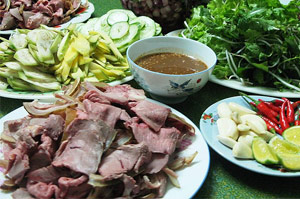 of the tourists."Veal Cau Mong" people of Danang also known as the familiar "Cau Mong beef." This land is a small village located on National Highway 1A in the commune of Dien Phuong Dien Ban District, Quang Nam Province (Quang Nam-Da Nang old). Here there are many restaurants serving quality Veal consumption, imbued with the flavor of Quang that is unrivaled. And I hereby declare that, Veal Cau Mong consumption only eat at Cau Mong is new is the top
Quang Noodle (Mi Quang)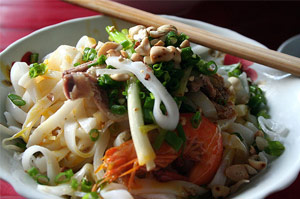 This noodle dish is a complex mixture of flavors and texture. The vibrant wide yellow tumeric noodles, sesame rice crackers, roasted peanuts, fresh herbs, and flavorful but light broth sets mì Quảng apart from other Vietnamese noodle soups like pho and bun bo hue. Unlike these noodle soups, mì Quảng is served with very little broth and almost like a dry noodle dish or noodle salad with the broth serving to bring all the flavors together.
This dish has multiple steps but is WELL worth it. It's something that can be done to eat for the weekend (make broth friday, make the rest and eat saturday) andinvite friends over. Recipe serves about 4-6.