Steamed "Tu Hai"
Tu Hai (Vietnamese: Tu Hài) is the speciality of Van Don Island district, some other places called snail spout. It is a kind of shellfish, but it is very rare and valuable. If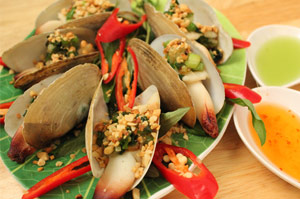 you have enjoyed it once time, you will never forget the special taste of it. You can cook soup or salad with "tu hai" or you can steam or bake it.
Steamed "tu hai" is sweet and cool. Its meat mix with spice can attract any visitor when he comes here.
This is the receipt to steam "tu hai"
– Choose the Tu Hai with the similar size. Soak them in water at 80oc to 900c about 3 minutes.
– pick them out, and then wash them
– dried onion and garlic, fresh onion leaves are cut into small pieces, then fry them in vegetable oil, then mix them with "tu hai"
– add fish sauce, soup, glutamate
– steam this dish in 12 to 15 minutes.
Strange and delicious sea snail restaurants of Ha Long
The most well-known places to eat sea snail dish in Ha Long are areas which are near Cao Xanh market and Bai Chay market. There are many sea snail restaurants but they are always full of customers.
When you see the sign"Ha Long sea snail supper market", I must sure you will be attracted to go inside this super market, and you will be surprised by the variety of sea snail.
In Ha long, you have to use a safety pin and your mouth to eat snail .It is very different with eating them in Hanoi but it is very interesting; maybe it is consider as an art in cuisine.
When eating snail here, the waiter will guide you how to eat snails with a key. You use the hole of this key to break the head of a snail, and then soak it in to the sauce. After that you will suck the snail by your mouth. In this way, you will feel the delicious taste of snail as well as sauce.
Once of the key to make the snail dish delicious is in its sauce.
Do you know how to make sauce for this dish?
Ingredients
– Fish sauce
– Cold boiled water
– Garlic, ginger, chilli, lemon leaves. You have cut them into small pieces.
– Glutamate, sugar, lemon
Step1 :
– grind garlic and onion; put them in a bowl of fish sauce. You can add cold boiled water if you want it less salty.
Step2:
– add sugar, lemon water, glutamate
– add chilli and lemon leaves