Pork (Cắp Nách)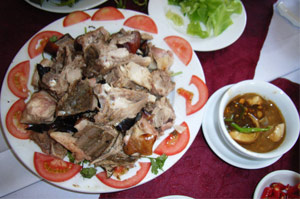 The name pig "theft armpit" (some place called swine mezzanine) is a special pig only in the highlands and largely in Lai Chau. Each about 10-15kg, which to me just about 20 kg. Eating pork "theft armpit" is like eating wild meat, but not illegal, because this pig species released into the forest since birth, self-feeding to survive.Pigs' theft armpit "was born from the breeding habits of the relative backwardness of the highland peoples such as Dao, Thai, Mongolian … This is essentially characterized pigs roam freely traditionally not raised the same cells. Want a pig "theft armpit" then just buy a pair, including one male and one female, then drop them into the woods near his house. Sometimes pigs will always go together, do drive in the forest, self-feeding.
To the breeding season, they mate and lay out the whole pig just to over dozens of the big toe.Pig species has very good stamina, they find bulbs, roots chewed the leaves of forest trees that can survive. Newborn pigs can run and for immediate consumption, they just follow their parents separated a few days and then himself. Both the children to feed pigs in schools until maturity, spawning a new order can split.
Especially as this pig species but to earn his living in the forest, but they never go away, just hang around at a certain distance.There is protection for our own habit of drive by his mistress made available immediately after a home or under the floor. And the pigs "in hiding" in the forest, they have marked their territory.
Want to see a large herd of pigs was not, people just find them in forests or night times on our drive to see. Drive is made of twigs, dry leaves. Want to catch them is also very easy, we have characterized the cry to induce them to come and catch.He Giang A Pao, Mongolian in Second barges Thang (Lai Chau-Tam Road) said: "I get the woman will leave the skin incision to scratch them out and look at them from the salt to the baby, sometimes forcing them to eat salt, they will never go away from where ".There are many ways of cooking pork specialties such as theft armpit into pudding, boiled, steamed, grilled, smoked, fried … Currently in Lai Chau and especially in Lai Chau town appeared many specialty shops armpit pig theft.
Guests from the plains have to rummage around in hope to enjoy this kind of "artificial meat" compliment delicious plates. The owner of a pork shop theft armpit in Lai Chau town has been fairly successful business through theft armpit pork specialties. He said his shop every day for several hundred "God" from around the dump to. In his house always have hundreds ready to put up the disk.
To meet customer you must have an army of specialized areas to buy pigs sucking pigs steal the armpit. In addition to the purchase to supply restaurants, he also purchased for the recruiter to dump elsewhere. Several years ago, before the establishment Lai Chau town, the specialty restaurants are few, this is like mushrooms growing rampant.
The specialty shop stealing pigs both armpits overflow plains, especially in Hanoi also has several places of business. Now in Lai Chau, pig stealing food has become the armpit of the weddings, parties festival … pork dish fruit theft armpit attractions.