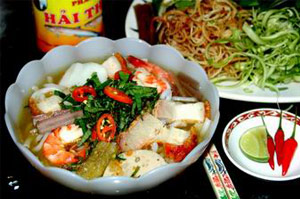 Soctrang is one of the prosperous provinces in the southwest of Vietnam where three communities of the Viet, Hoa (Ethnic Chinese) and Khmer have lived together friendly for years. The people of Soctrang are also typically diligent and hard working; in fact, both Vuong Hong Sen, a renowned scholar, and Dr. Luong Dinh Cua, an agronomist, were born in Soctrang.
In general, Soctrang is well known throughout Vietnam because of the traditional Khmer music. Moreover, the distinctive Occ Om Bok Festival, which is listed as one of the national festivals, is annually celebrated in Soctrang. Also, the people of Soctrang have recently contributed to Vietnam's winning of gold, silver, and bronze medals during the Dragon Boat Championships in China and Singapore. Besides the culture and society, Soctrang is also distinguished by its special dishes, and snacks such as "Banh Cong" (deep-fried) of Dai Tam, Vung Thom Bean Cake, Nhu Gia Prawn Crackers, Bun Nuoc Leo of Soc Trang, and Phu Tam Chinese Sausage.
Ideally, the following part of this article embraces a brief introduction of the so-called Bun Nuoc Leo. Bun Nuoc Leo, which is also known as "Bun Mam" is the most popular dish of Soctrang. The main ingredient of Bun Nuoc Leo is primarily based on fermented fish. The blend of rich and savoury flavours of fermented fish entirely stimulates the beautiful taste of "Bun Nuoc Leo". Originally, Bun Nuoc Leo is one of the favourite dishes of the Indigenous Khmer. It is widely imparted throughout Soctrang using Mam Pra-Hooc (one kind of fermented fish) as the main ingredient to produce a heady and rich broth. Likewise, the Hoa and Viet prefer Mam Sac, a slightly heady fermented fish, as the alternative ingredient in order to preserve the original taste of Bun Nuoc Leo.
The procedure of making Bun Nuoc Leo is quite important. Firstly, fermented fish is boiled in filtered water in a pot until its flresh is totally crumbled, then carefully filtered it through a fine sieve to produce savoury and rich liquor. This liquor is an essential component of Bun Nuoc Leo. Next, the mixture of chicken broth and coconut juice is vital to produce a soupy concoction using chicken bones (pork bones as the substitution). During this process, we add several lightly-crushed lemongrasses and ngai bun (known as Krachai or Chinese Keys) which are the adherent ingredients to produce exactly the taste of Nuoc Leo. Besides, eliminating the air bubbles is a crucial step to produce a clear broth. As a result, the enriched mixture of the savoury liquor of fermented fish, sweetness of chicken broth, pungent flavour of lemongrasses, and tasty essence of krachai characterise the compelling broth, called "Nuoc Leo".
Tasting is another important stage. Depending on taste: Add a bit more salt or sugar to meet the preferred flavor, however, adding fish sauce is not necessary. Next, turn off the heat and leave the broth cooling down until it leaves a deposit of sediment underneath. Afterwards, pour the broth into another pot without sediment and reheat it.
In general, Bun Nuoc Leo is ideally served with unshelled Tiger Prawns, sliced Ca Loc fillet (one kind of fresh water fish), pieces of crispy roasted pork, and an optional Banh Cong (deep-fried). Also, finely sliced banana bud and shredded water spinach, fragrant basil, and crunchy bean spout are used as garnishing. Likewise, adding some chives, chilli, and wedges of lime is likely to stimulate the taste of Bun Nuoc Leo. Keep in your mind, firstly place crunchy sliced banana bud, shredded water spinach, and bean spout underneath, then put the rice vermicelli on the top, and finally dip it in the boiling broth for two or three times. Afterwards, add pieces of roasted pork, Ca Loc fillet, and unshelled Tiger Prawn and repeat this dipping process .
During cool and drizzly weather, there is nothing better for having a bowl of Bun Nuoc Leo, rich with coconut juice, savoury broth, hot with chili, pungent with lemongrass and Krachai, together with fritters and crunchy raw vegetables, yummy roasted pork, and natural sweetness of Ca Loc fillet. In brief, if you have a chance to visit Soctrang, you should try Bun Nuoc Leo. The more you have Bun Nuoc Leo, the more you taste the goodness of it.