Ninh Binh Itinerary ideas
NINH BINH (VNS)— The first international conference on spiritual tourism concluded yesterday in the northern province of Ninh Binh with the signing of a statement on exploiting spiritual tourism for sustainable development.
At the end of the two-day event, representatives from the World Tourism Organisation (UNWTO), Viet Nam and other countries, the tourism industry, and various international organisations agreed to adopt measures to strengthen their policy framework and co-operation with local communities to ensure the benefits are applied to all stakeholders while remaining as close to tradition as possible.
They agreed to create adequate conditions for the responsible and sustainable use of living cultural assets in the development of spiritual tourism to create new employment opportunities, enhance product diversification, and curb rural migration.
The declaration makes it clear that attention should be paid to encouraging education and training as well as building capacity to empower communities through tourism and hospitality management and decision-making skills.
The signatories call for efforts to promote and support the socio-economic advancement of vulnerable groups through spiritual tourism development, especially for indigenous people, ethnic minorities, women, youth and people with disabilities.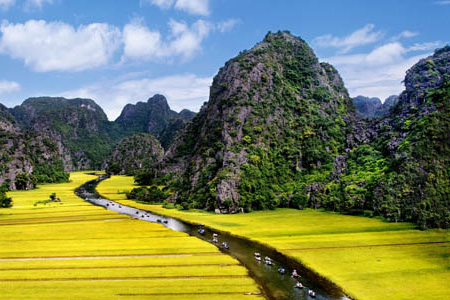 The statement acknowledges that participants encourage close co-operation at the regional level to preserve and exchange various concepts from the Oriental philosophy of human well-being to foster the harmony of the body, mind and spirit, thus ensuring the survival of ancestral traditions for future generations.
The conference was co-organised by Viet Nam's culture ministry and UNWTO at Bai Dinh Pagoda, one of the spiritual tourism attractions in Ninh Binh Province.
Closing the conference, Culture Minister Hoang Tuan Anh said, "The presentations and opinions presented at the conference indicate the increasingly important role of tourism in the socio-economic development of each country, territory and the world as a whole.
"The development of tourism and spiritual tourism, in particular, enhances cultural exchanges and understanding among people and opens up many more opportunities for co-operation and investment to spur economic growth."
However, the minister stressed that the development would only be sustainable if this form of tourism was properly managed and attracted the participation of other parties, especially the local community, under the supervision of local authorities. — VNS