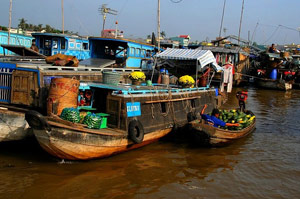 Caibe Floating Market
This bustling river market is worth including on a boat tour from Vinh Long.
It is opened from 5am to 5pm. It is best to go early in the morning. Wholesalers on big boats moor here, each specialising in one or a few types of fruit or vegetable. Customers cruise the market in smaller boats and can easily find what they're looking for, as the larger boats hang samples of their goods from tall wooden poles.
One interesting thing you won't see at other floating markets is the huge Catholic cathedral on the riverside – a popular and fantastic backdrop for photographs.
It takes about an hour to reach the market from Vinh Long, but most people make detours on the way there or back to see the canals or visit orchards.
Cho Gao Floating Market
Cho Gao village is a local market and continues to My Tho.
In the early morning, you could travel by your comfortable bus towards Can Duoc, where you come aboard of your boat to cruise to the Cho Gao floating market.
This sightseeing is extremely interesting as you participate in the life of the local people. The market is a melting pot of colors, shapes, sounds and smells. Rice, fresh fruit, fish, handicrafts, bonsais, almost everything is for sale, a great opportunity to find some nice souvenirs for the loved-ones at home!
Phong Dien Floating Market
Phong Dien Floating Market is about 20 kilometres southwest of Can Tho, the best floating market in the Mekong Delta.
Boats loaded with produce from nearby orchards of the Mekong Delta converge to the floating market. They carry mostly fruits but also coconuts, vegetables and fishes.
Buyers are local traders with bigger boats snapping everything by the bushels and resell at local markets or to wholesale dealers from big cities, often for a handsome profit.
Large floating markets are not complete without its floating restaurants, floating gas stations and an occasional tour boat filled with tourists.
Perhaps the best floating market in the Mekong Delta, Phong Dien has fewer motorised craft and more stand-up rowing boats. It's less crowded than Cai Rang and there are far fewer tourists. The market is at its bustling best between 6am and 8am.
It is theoretically possible to do a whirl- wind boat trip here, visiting the small canals on the way and finishing back at the Cai Rang floating market. This journey should take approximately five hours return from Can Tho.