Meet the Team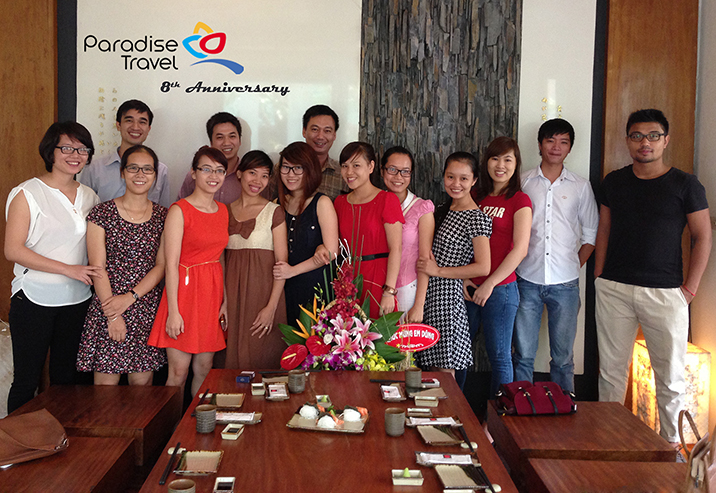 ---
Alex Duy – English Sales Manager
My full Vietnamese name is Nguyen Van Duy. I graduated from the Hanoi University of Foreign Studies in 2002 and I have been working for Vietnam Paradise Travel since it began. I am proud to be part of its dedicated and enthusiastic team that works hard to create unique and flexible tours so our customers can experience the beauty and culture of my homeland, as well as the neighboring countries.
The best part of my job is traveling and talking with people from all over the world. Through my work with Vietnam Paradise Travel, I have had the great opportunity to visit nearly every corner of Vietnam, Laos, Cambodia, and Myanmar. Based on my experience, I am confident in providing our clients the best suggestions and advice to ensure an enjoyable, memorable trip of a lifetime in Vietnam and all of Indochina.
Please read some client feedback about our company Vietnam Paradise Travel on Trip Advisor
---
Ms. Linh Chi – English Sales Executive
My name is Linh Chi, a true beach lover. Graduated with a bachelor degree from RMIT University, yet my passion for exploring off-the-beaten-track destinations in Vietnam motivates me to join tourism sector. Currently, I am working as an English Sales and Travel Consultancy for European and Vietnamese markets. Let us help you plan an unforgettable vacation.
---
Ms. Huong Le – French Sales Manager
My name is Huong Le and I was born in Hanoi, the capital city of Vietnam. I love everything about this city – its peace, its hustle, its food and its people. I have been working in tourism industry for 12 years with many experiences as a Sales and Operation staff. Before joining Vietnam Paradise Travel, I had gained working experiences in many reputable local tour operators. For now, I am very happy with my current position as French Sales Manager for Vietnam Paradise Travel since 2010. I am passionate about traveling and it would be my pleasure to introduce you our beautiful country, Vietnam as well as other exotic destinations in Southeast Asia such as Laos, Cambodia, and Myanmar. Please let us assist you to design your own tailor-made trip.
---
Ms. Trang Doan – French Sales Executive
Hello, my Vietnamese name is Trang Doan, my nickname is Alice. I was born and raised in Hanoi and graduated from Hanoi University, majoring in French language and International Commercial. Before joining Paradise Travel, I followed a training course in France
After a long time taking care of the marketing, customer care, and online support procedures, I well understand the customers' needs and expectations about their tours in Vietnam and that we can design more suitable products for the seasons to come.
I have been to almost all places in Vietnam, Laos, and Cambodia as well I love traveling and spend my spare time to surf on net and I enjoy very much watching movies and listening to pop music.
---
Mr. Victor Ngo – Marketing Manager
Hello wanderers, this is Victor Ngo. After graduation with a degree in business management, I have worked in Marketing department in different companies. Currently, I am taking care of marketing and customer service position at Vietnam Paradise Travel. I have traveled to USA, South Korea, South China, Vietnam and am looking to set my footsteps on many other fascinating destinations in the world.
As an adventurer, I understand the hassle that travelers have to go through when traveling such as doing research, cramming information, comparing prices, etc. in order to plan the best-fit adventure. A lot of time, it is hard to know where to start looking and where to ask for expert information. For this reason, I want to reach out to as many fellow travelers as possible to connect them with South East Asia travel experts and plan quality, memorable adventures. If you need support with anything, let me know.
---
Ms. Nhan Nguyen – Operations Manager 
Having been working at Vietnam Paradise Travel for 7 years, Ms. Nhan Nguyen is an experienced Operations Manager who ensures that your trips will be safe, smooth and affordable. Qualified with a bachelor degree in Business Administration from Vietnam University of Commerce, she guarantees that all customers will be provided with high-quality transportation, accommodation, hospitality, and entertainment services when traveling to Vietnam and Southeast Asia.
---
Mr. Quang Huy – IT Manager
Quang Huy, born in Bac Ninh province – Home of Quan Ho Traditional Folk Music. He moved to Hanoi and studied at the University of Science of Hanoi, having received the Bachelor of Science in Information Technology (BScIT). Prior to joining Paradise Travel, Huy has several years of experience with the IT Manager position at some large companies. Huy is responsible to lead the IT department and to manages all the web development projects and office computer systems. His discipline keeps the web systems run smoothly and his IT skills keep us online. Huy really enjoys working with the young and very talented team that Paradise has here. He himself a simple and very friendly person together with his flexibility and his task orientation, great passion for the company's development has made us very proud of him.
---
Mr. Kevin Nguyen – Director
After working several years for another travel company in Vietnam and gaining extensive experience in the industry, in 2005 I decided to open my own company – Vietnam Paradise Travel. I have a passion for traveling and have come to know Southeast Asia very well. I have also broadened my company's horizons by introducing new tours in Vietnam as well as adding journeys to Cambodia, Laos, and Myanmar.
As the owner of Vietnam Paradise Travel, my main goal is to educate and train my team to "put themselves in our customers' shoes," cater to their needs and wishes, and provide the best possible customer service, in addition to responding promptly to circumstances that may prevent a tour from going exactly according to their plans. Indochina is a developing tourist destination, which makes traveling around this unique part of the world so exciting. Our flexibility, professionalism, and dedication to high-quality service will inspire confidence and offer our customers the best possible experience in Vietnam and Indochina. My team and I are highly motivated and strive to make Vietnam Paradise Travel one of the best travel agencies in Vietnam.