Vietnam car rental with driver
Vietnam car rental with driver for travel or business purposes. Car hire in Ho Chi Minh City, Hanoi, Da Nang and all other regions in Vietnam

Beside operating cars for tours in Vietnam, Cambodia, Laos, Thailand and Myanmar, Paradise Travel offers almost all types of cars for rent for either a tour or business trip to these countries.

Prices for basic routes car with driver rental in Vietnam. 
Prices are in $US, all included 
| | | | | | |
| --- | --- | --- | --- | --- | --- |
| Route | 04 seat car | 07 seat van | 16 seat van | 24 seat bus | 35-45 seat buses |
| Daily rental rates (exclude daily overnight fee) | 55 | 65 | 75 | 95 | Contact us |
| Airports 1 way transfer | 27 | 35 | 40 | 50 | Contact us |
| Hanoi city tour (1 day) | 55 | 65 | 75 | 98 | Contact us |
| Hanoi – Halong – Hanoi transfer (1 day) | 90 | 120 | 140 | 180 | Contact us |
| Hanoi – Halong – Hanoi transfer (2 days) | 115 | 145 | 165 | 210 | Contact us |
| Hanoi – Ninh Binh – Hanoi transfer (1 day) | 85 | 95 | 110 | 140 | Contact us |
| Danang City – Hoian Town transfer (1 way) | 27 | 35 | 40 | 50 | Contact us |
| Danang City – Hue City transfer (1 way) | 90 | 100 | 110 | 160 | Contact us |
| Ho Chi Minh City – Mekong transfer (1 day) | 95 | 115 | 155 | 180 | Contact us |
| Ho Chi Minh City – Mekong Delta transfer (2 days) | 120 | 135 | 175 | 230 | Contact us |
| Ho Chi Minh City – Cu Chi – Cao Dai transfer (1 day) | 90 | 100 | 110 | 160 | Contact us |
Our prices include car, driver, petrol, gas, toll fees, food and accommodations for driver…
Our prices above are for most popular routes from main cities to nearby tourist attractions. Check with us for car rental prices for any routes upon your traveling plan.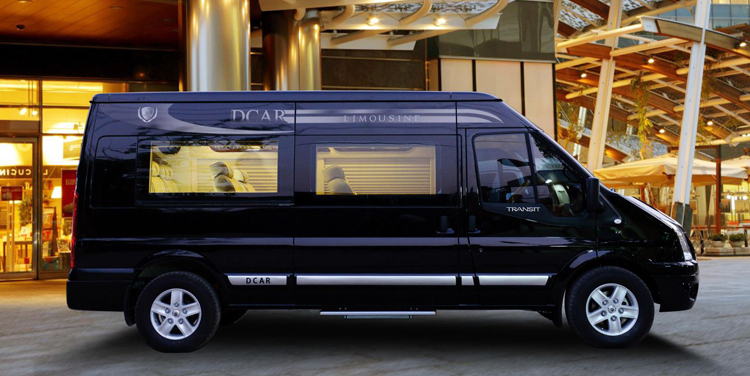 Car rental with driver in Vietnam:
Hire a car with driver and travel Vietnam yourselves is a smart choice to discover Vietnam.
Our vehicles are of common brand names: Toyota: Corolla Altis, Camry, Innova, Fortuner. Ford: Everest, Transit. Honda: Civic, Accord. Hyundai: Sonata, Tucson, Santafe. Mazda: Mazda 3, Mazda 6, Mazda CX5… to higher ranks VIP luxury cars BMW, Mercedes, Porche, Land Rover…
Our cars are almost within 2 years in use with all functions (air-con, seat belts) running well and are always maintained in good conditions.
Our drivers are well trained, experienced and have good interpersonal skills. Our drivers are not only there to drive but also to act as your assistant for any matters that required attention. With our cars, you will be always feeling Safe and Comfortable.
We have suitable cars for family with baby seat, careful and kid friendly drivers
Normally, we offer car rental price according to tourist's travel plan: places to visit and time to use car. If you are not sure about places to visit or if you prefer a totally 'free' trip, we can also offer 'day by day' quotations. Our sales are helpful with checking hotels/ restaurants or other related information upon requests.
We strongly suggest that travelers should hire a tour guide for their trip and he/ she can help make your trip more interesting

| | | |
| --- | --- | --- |
| | | |
| Toyota Camry 4 seats | Honda Civic 4 seats | Ford Everest 7 seats |
| | | |
| Toyota Innova 7 seats | Ford Transit 16 seats | Mercedes Sprinter 16 seats |
Hanoi City car rental with driver.
Hanoi, capital of Vietam with Noi Bai International Airport is one of travelers first choices when they visit Vietnam. We offer Noi Bai airport pick up and car rental services in Hanoi as well as to other Northern of Vietnam areas.
Form Hanoi, travelers can hire a car to visit the city, Halong Bay, Hoa Lu, Tam Coc, Northwest, Northeast of Vietnam.
Hanoi – Halong car rental
Halong is 180 KM from Hanoi, you can visit Halong in 1 day or 2 days.
With 1 day Halong tours option, you can start from Hanoi or Hanoi airport around 8h – 9.00 AM, the cars arrive Halong by 12.00, you can visit the bay on a boat for 4 or 5 hour trip. The trip finishes in Hanoi quite late at around 20.30 – 21.00 PM
With 2 days, 1 night or 3 days, 2 nights Halong cruises option, the start time is similar as 1 day option but on last day all cruises finish by noon and you can arrive back Hanoi by 16.00 PM, sometimes earlier. If you have other plans and need to be back to Hanoi/ Hanoi airport earlier, you can inform your cruise and driver for better arrangement.
Note that most cruises in Halong offer Hanoi – Halong minivan transfer services and prices for the services are different
Hanoi – Halong and Ninh Binh make a triangle, Hanoi – Halong: 180KM, Halong – Ninh Binh: 140 KM, Hanoi – Ninh Binh: 100KM. If you combine Hanoi – Halong and Ninh Binh in your trip, you can go directly from Hanoi to Halong then to Ninh Binh or Hanoi – Ninh Binh – Halong. Ninh Binh is an interesting travel destination in Vietnam with Hoa Lu, Tam Coc, Bich Dong, Van Long Lagoon, Trang An nature reserve, Bai Dinh Pagoda…
Ho Chi Minh City car rental with driver.
Ho Chi Minh City is one of the most attractive travel destinations in Vietnam. We offer Tan Son Nhat airport pick up services as well as car rental services to other travel destinations in the south of Vietnam as Vung Tau, Mui Ne, Me Kong Delta.
Ho Chi Minh City – Mekong Delta car rental
If you are planning to visit Mekong delta in 1 day, Cai Be floating market shall be your destination and combine with Phong Dien floating market in Can Tho for 2 day option with Mekong Cruises
From HCMC, you can also rent a car to visit Cao Dai Holy See and Cu Chi Tunnels in 1 day.
Car for golfers in Vietnam
As a professional Vietnam golf tour organizer, we have suitable cars for golfers who play golf in Vietnam. The cars are suitable for passengers and golf equipments
Vietnam car rental without driver.
We offer long term car rental without driver and this service is suitable for those who are working in Vietnam.
If you do not have a local driver, a valid driving license in Vietnam is required
You can use your national or international driving license to get a Vietnamese sub driving license version. Please contact us for the procedures and price
Other details for car rental without driver we will advise case by case
If you would like to hire car to travel to our neighboring countries as Cambodia, Laos…, we can also offer similar services but with other cars/ drivers in these countries.
Some useful information:
– Airport pick ups: Our driver will be ready upon your arrival time at suitable airport exit gate with a greeting board  which note your name. Our sales/ operator check your updated flight arrival time and inform our driver in case there are changes. Please look around at exit gate for the board with your name.
– Hotel pick ups: Our driver will be at the hotel lobby in time as in program, check with hotel receptionist if you do not see him.
– Airport see offs: 3 hours/ 2 hours in advance at the airport for international/ domestic flights respectively plus ~ 1 hour transfer time
Here is the map with distances among main travel destinations in Vietnam. Our sales will help make your travel plan more clear, of course: