The capital city 130km west of Bangkok, Kanchanaburi is a beautiful city located adjacent to Myanmar border. The province is famous for its dense forests with a variety of diverse plant and animal species and quantity, with the traditional handicraft villages, there are three rivers Kwai Yai – Kwai Noi – Mae Klong, and the city the world is particularly known for the beginning railway dubbed Death and the famous bridge across the River Kwai in popular film won an Oscar in 19 ….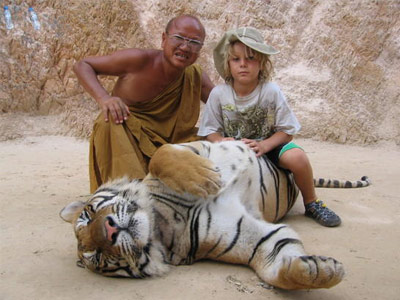 Tiger in Kanchanaburi
Kanchanaburi is also a tourist attraction by a sense of fun in the hotel facilities deep in the forest. River Kwai Village Hotel 5-star standard with full facilities located by the river, between the trees teak forests. To reach the hotel, visitors travel by high speed boat spiraling on the river surfing, was a little interesting when there is travel. Overnight in the deep forest between animals, birds and trees, visitors burying themselves in a rare sense of calm. For then next to Wat Pha Luang fresh Ta Bua – still known as the Temple Tiger (Tiger Temple) visits the living area of South East Asian tigers are semi-wild, in addition to the wild boar, chamois , antelope, water buffalo and apes; or attend a boat tour with elephants in the forest. Grass scent of flowers, the swaying and swinging high elephant that visitors free man, thought love away, sinking into the magic of the moment trip.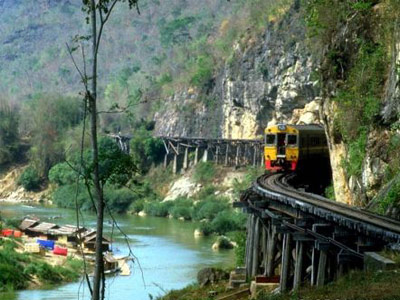 Railroad in Kanchanaburi
In Kanchanaburi, there are many beautiful waterfalls, majestic as the Erawan waterfall, waterfall Huay Mea Khamin, Sai Yok Noi Waterfall, Sai Yok Yai Waterfall Dai Chong Thong. You are sailing enthusiasts Beaches, you will not want to miss his chance to elongated operating the boat passes the rapids at this place. Cascade shower is a wonderful experience in the forest of thousands of western Thailand, a method of massage is extremely effective.