Capital Vientiane is a peaceful and rustic, not (yet) the skyscraper. Great roads through the heart of the city as Lang Xang Avenue, walk around for a while then came back to the main avenue to start a new journey. Tourists can rent a bike for about 1USD/ngay to explore the famous tourist attractions and soak up the peaceful life of the people here.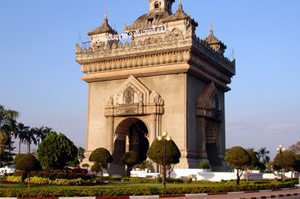 Vientiane City
Pha That Luang
Patuxay Gate Located 2km east of the Buddhist temple is the most important national symbol of Laos Pha That Luang.
Of That Luang stupa is surrounded by 3 layers of massive walls, is decorated with lotus petals and gilded splendor small towers. The outer walls with lotus by a smooth green lawn is a village school is built around the temple roof. Walking along this corridor you will have the opportunity to admire the artwork of an artist Laos has been studied in Vietnam. His paintings reflect the vibrant life of civilians or the photo reproduction of the life of Buddha. From the corridors of That Luang, you will see two small temple is Wat That Luang Neua to the north and Wat That Luang Tai to the south.