Ban Pho village
If you want to see what a real Montagnard village looks like, this is your chance. The villagers live simply – don't expect bright lights and loud music. Indeed, don't even expect electricity. What the lack in material possessions, they make up for in their extreme hospitality. The Hmong villagers are some of the kindest people you'll meet in Vietnam. If you visit around noon you may be to invited to lunch, though that can be a mixed blessing.
Ban Pho is a 7 km return trip from Bac Ha..
Hoang A Tuong King palace
The castle was built at the beginning of the 20th century (between 1914 and 1921). Its owner was Hoang Yen Chao of Tay origin. He was the father of Hoang A Tuong, a tribal mandarin under the domination of the French colonialists. The castle covers an area of 4,000 m2 in which the main building occupies 420m2. In front of its arched doors are earthen banks. Occupying a pivotal position overlooking the Bac Ha valley, the castle serves both as the residence of Hoang Yen Chao, then Hoang A Tuong and as a fortress. Its network of walls, bunkers, and battlements were reinforced by a mortar mixed with sugar molasses. In a distance, the white castle jutting out from the valley looks imposing and majestic.
Bac Ha Market
This lively and crowded concrete bazaai is the main market in Bac Ha proper. It draws large numbers of Flower H'mong from the surrounding hills. The women embroider elaborate floral motifs on their skirts, making a technicolour dream for photographers. Items on sale include water buffaloes, pigs, horses, dogs and chickens: hardly convenient purchases for most visitors Tourists to buying handicrafts, textiles and the local firewater. The market operates only on a Sunday. Get here early to experience it without the razzamatazz of day-trippers from Sapa
Can Cau Market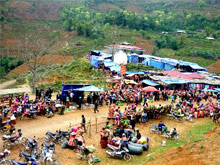 This is one of the biggest open -air markets in the region, specialising in livestock. It's 20km north of Bac Ha and just 9km south of the Chinese border. Can Cau attracts a large number of Chinese traders, evidenced by the booming dog trade here The market is only open on Saturday
Lung Phin Market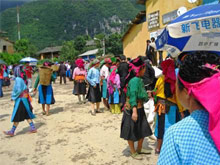 This small market is between Can Cau market and Bac Ha town, about 12km from the fown It's less busy than other markets, and is open on Sunday. It is a good place to move onto once the tour buses arrive in Bac Ha from Sapa

Coc Ly Market
This Tuesday market is about 35km if from Bac Ha. You can net here via a fairly good road, or by road and river boat trip to Coc Ly market.