Location:
Bac Ha is a district in Lao Cai Province, 80 KM from Sapa town and is in the Northeast region of Vietnam.
Area:
686.78 km² wide
Population:
This is home to 10 Montagnard groups : the colorful Flower H'mong are the most visible, but other groups include Dzao, Giay (Nhang), Han (Hoa), Xa Fang, Lachi, Nung, Phula, Thai and Thulao.
Weather:
The climate is cool and temperate pine forests as northern European weather.
How to get there:
It's a 3 hour harrowing ride from Sapa, but once you arrive there in one piece, it's a true experience of local culture. On any Sunday you can catch/hire a minivan from Sapa to drive you through some of the most stunning countryside that Vietnam has to offer. Rice terraces that look as if you drove into a postcard and then you start climbing up high into the hills on little one lane roads holding your breath around every corner.
Highlights:
Bac Ha is truly a destination of adventure and hill tribe markets. The region is really famed for its beautiful rugged karst mountain range, exotic cultures and green development. One of Bac Ha's main industries is the manufacture of alcoholic home brews (rice wine, cassava wine and corn liquor). The corn hooch produced by the Flower H'mong is so potent it can ignite! Bac Ha is the only place in Vietnam where you'll find this particular moonshine; there's an entire area devoted to it at the Sunday market – one of the best ethnic markets in all of Southeast Asia. On Sundays, the ethnic minorities from the surrounding villages and hills come by foot, motorbike, scooters, horse and by water buffalo for their chance to socialize, eat, drink, smoke, get a haircut, and buy produce and meat for the next week. It is a blur of colorful plaids and stripes.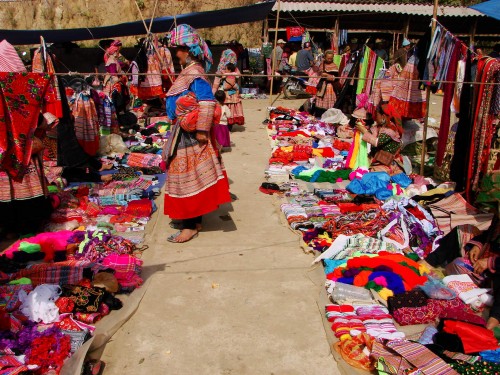 Bac Ha food is very unique and sometimes even adventurous tourists find them hard to try out. The traditional specialties of ethnic Mongolian is Mèn Mén, which frequently appears at the festivals. Another popular dish in Bac Ha is "Thang Co" is made from pork, dog meat, meat goats and the bones, the five organs clean and spicy dishes. If you want to taste more of the northern culture of Vietnam, spend your weekends at Bac Ha Market.