10 Biggest Yearly Festivals in Vietnam
If you are traveling to Vietnam, 10 best yearly festivals below will give you some insight into the country's culture to see the fun-loving spirit, distinctive customs and hidden myths about Vietnam.
Vietnam remains a traditional nation irrespective of its current modern development. In Vietnam, you will discover a plethora of iconic figures and deities. Shrines and pagodas are dedicated to Buddha in this Southeast Asia country. During certain periods of the year, Vietnamese people celebrate a plenty of cultural events. And if you are lucky enough, one of these events may pop up during your travel. In this article, you will find a comprehensive list of big festivals in Vietnam. The content also contains useful information on the best locations for these festivals.
1. Tet Nguyen Dan (Lunar New Year)
It is also called Tet holiday or Vietnamese New Year. It takes place around February or January based on Lunar Calendar. This is the biggest and most important event in Vietnam due to its rich custom. One amazing thing about this festival is it is celebrated throughout Vietnam and it's an occasion for family get-togethers. Tet holiday officially lasts for 3 days but many people stretch it to one week or even 10 days. During the festival, locals will visit relatives, give lucky money to children and elders, pay a visit to temples to pray for wealth and happiness. There is no wild-type party for this kind of festival. Hanoi remains the right location during celebration.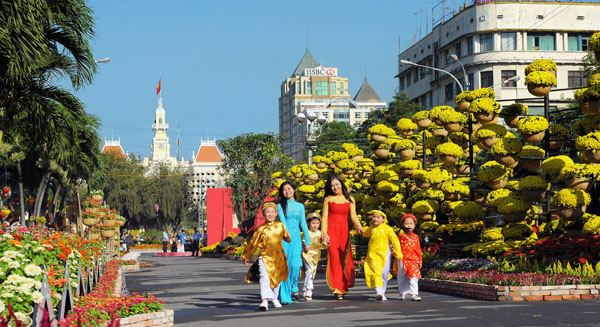 2. Hung King Temple Festival
Early April is the right time to celebrate Hung King Temple Festival. According to Lunar Calendar, it falls on 10th March. The event is in commemoration of Vietnam's first king called Kinh Duong Vuong around 2879 BC. On the eve of the event, one hundred lanterns are launched into the sky. Hung Temple, located on Nghia Linh Mountain in Phong Chau District, Phu Tho Province, is the place where the main worship event occurs. You can witness many interesting cultural activities during the festival like xoan classical song performances and ca tru classical operas, etc.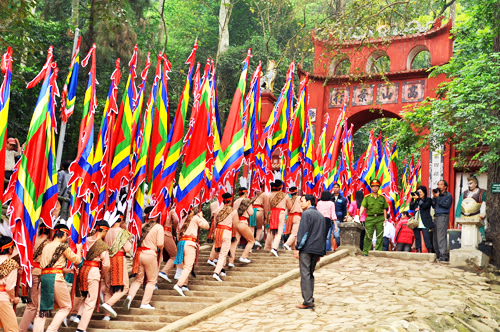 3. The Mid-Autumn Festival
Festivals in Vietnam mean a lot to the people of the country. The Vietnam Mid-Autumn festival is not an exception to this rich tradition. It is also known as the harvest festival. The event takes place around mid-August between the fourteenth and fifteenth day of Lunar Calendar. In the festival, there are many activities like children carrying paper lanterns, watching lion dances and enjoying a big feast of fruits, cakes, candies, sticky rice under the full moon. Hoi An is considered to be the best place to mark the Mid-Autumn festival, where tourists can see colorful paper lanterns lining Thu Bon Riverside. A lot of street performances, lantern processions and art exhibitions will take place during the festival in Hoi An.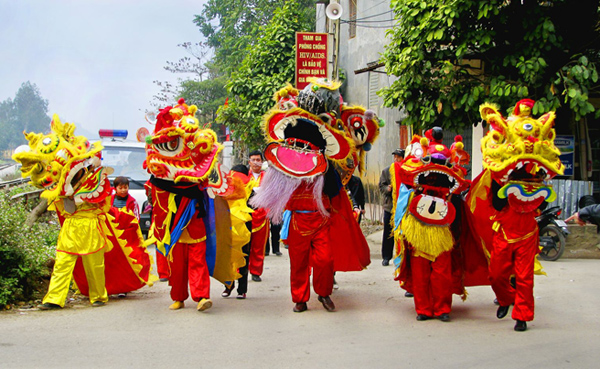 4. Hoi An Lantern Festival
Hoi An Lantern Festival occurs on the fourteenth day of every lunar month. There is total display of paper lanterns in this event. During the festival in Hoi An, businesses, bars and restaurants will turn off their electricity and depend on lanterns and candles. If you want to worship in any temple on this day, there will be no charge for entrance fees. The best place to attend the festival is within Ancient Town area where tourists can enjoy traditional music, play Chinese chess, read poetry or learn how to make lanterns.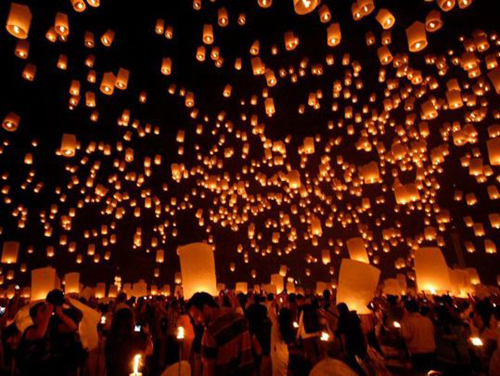 5. Hue Festival
Hue Festival is hold in Hue city, which is located in the Central of Vietnam. It unveiled in 2000 and comes up in every two years in April, May, June. During this festival people can enjoy several games and cultural events over a week like Ao Dai Fashion Shows, Hue Poetry Festivals, Dialogue of Drums and Percussions etc. The festival traces its route to Nguyen Dynasty in the country to preserve its traditional customs. Hue city is the only place where you can celebrate the event.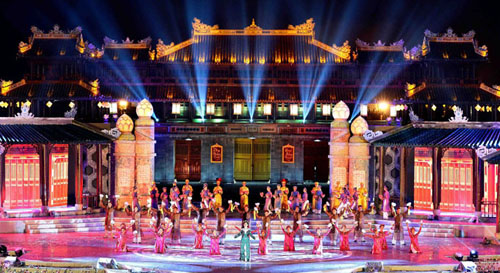 6. Lim Festival
The festival falls on 12th and 13th day of the first lunar month. During the festival you can enjoy local games like bamboo swings, cockfighting, tug-of-war, wresting, etc. and listen to quan ho folk singing performances. Locals will perform in traditional costumes on several stages built within the village. Lim festival takes place in Tien Du district of Bac Ninh province. You can easily get to this traditional village from Hanoi by bus or car rental.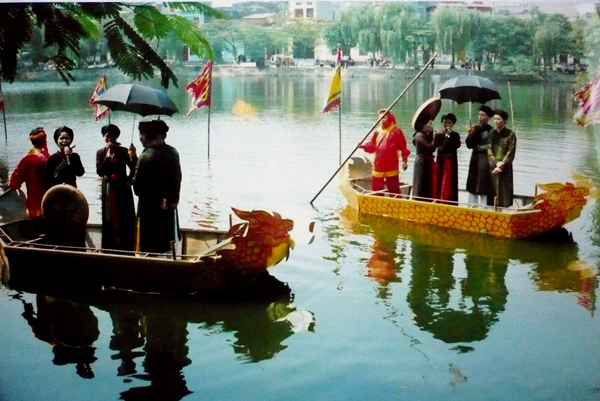 7. Perfume Pagoda Festival
The festival of perfume pagoda kicks off on 6th of the first lunar month and lasts for 3 months. Pilgrims from all over the country come to perfume pagoda on this occasion to pray for a prosperous year and pay respect to Buddha. The journey will start by boat along Yen river to the foot of Huong mountain and continue on foot by climbing hundreds of stone steps towards Huong Tich cave. Perfume pagoda is located in Huong Son Commune, My Duc district, Hanoi.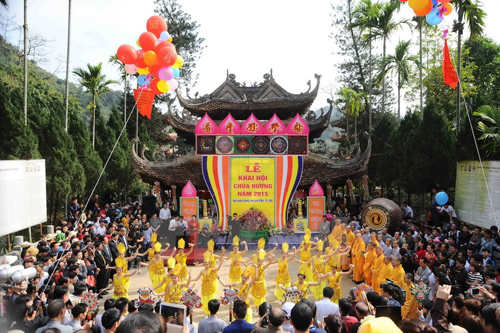 8. Buddha's Birthday
The birthday of Buddha comes up in early May of the year. On lunar calendar, it falls on 8th April. Devotees around the country gather together to celebrate this festival. They offer fruits, flower garlands and Vietnamese dishes to many temples. The event can be best marked at Phap Bao pagoda in Hoi An, where you find a procession of monks along the streets of Ancient Town. Birds in cages are released as one feature of the event.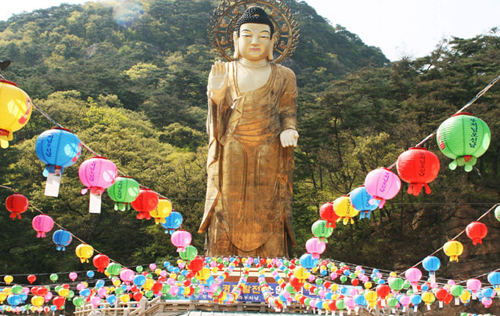 9. Wandering Souls Day
On 15th day of 7th lunar month, Vietnamese people celebrate the Wandering Souls Day. Locals believe that the souls of their past loved ones and spirits of ancestors come to visit their houses at this time. On the eve of the event, each household prepares a big feast including flowers, sticky rice cakes, fruits, fake money and paper clothes to offer to the spirits. Although the festival is held by most traditional Vietnamese families, it can be enjoyed at most in Hue city where locals and monks perform ceremonies and prayers at numerous Buddhist shrines and pagodas.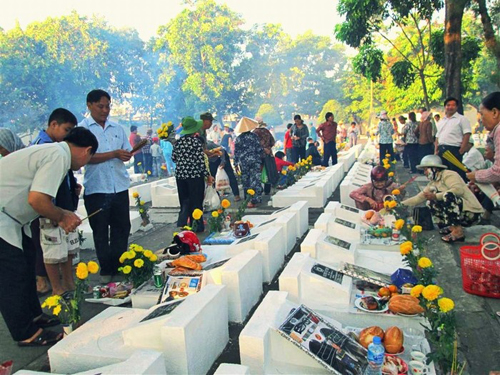 10. Phu Giay Festival
Phu Giay Festival is only celebrated within the Kim Thai Commune of Nam Dinh province. It takes places in late March up to early April. In this festival, people worship the goddess Lieu Hanh to pray for good fortunes. Locals wear traditional costumes and carry decorated bamboo relics during the festival. You can join various games in the festival such as lion dancing, wresting, human chess, capture-the-flag etc.
 Apart from 10 biggest yearly festivals above, Vietnam still has many festive events held in small cities and provinces across the country but these 10 festivals could be enough to make you overwhelmed with the fact that Vietnam is rich in culture and customs and having a glimpse of such traditional events in Vietnam will prompt an urge to visit this amazing country.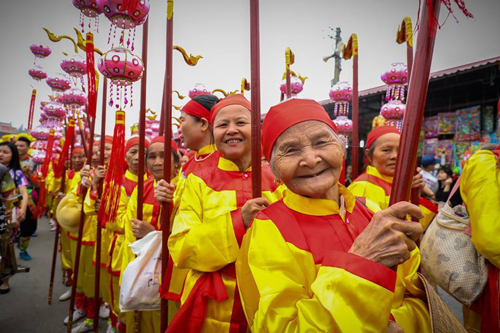 ---
Start planning your tailor-made Vietnam tour by contacting one of our specialists…