Best places to visit in Vietnam in December
December is the most beautiful time to visit Vietnam with mild climate and pleasant in every region of the country. Check with us for best places to visit in Vietnam in December.
Tourists will experience sunny days with a touch of wind in attractive beaches and spectacular sites in the South and the Center. The North may cooler than the North and the South with low temperature.
December is suitable for visiting and traveling in beautiful beaches and attractive sites in the Center and the South, hiking or climbing in the North's highland areas.
Weather
The North of Vietnam in December is in the winter time with the low temperature, about 20oC with bright, windy sky.
The Central: The rainfall has decreased, the sunny days almost return in the attractive beaches. The average temperature is 24oC with clear sky.
The South area is returning to the sunny days, with the average temperature is 26oC with clear sky.
Events and Festivals
Christmas Day: This event lasts for 2 days, from 24th-25th December with a lot of attraction of Vietnamese and foreign tourists. Christmas Day is to celebrate the birth of Jesus Christ and it is the traditional event of the Christians.
In this day, people will come to the church (both Christians and non-Christians), they will pray for good things and watch the spectacular decoration.
Two most attractive churches are the St. Joseph's Cathedral in Hanoi, Duc Ba Church (Saigon Notre-Dame Basilica) in the Ho Chi Minh City.
Attractions in Vietnam in December:
Ha Long Bay
Halong Bay or Bay of descendant Dragon, it is the national scenic spots from 1962 in the North of Vietnam. Halong has total 1,969 islands and islets, the most famous ones are Hon Lu Huong, Fighting Cock Rocks, Ngoc Vung island, Ti Top island, Tuan Chau island.
Halong Bay is the result of creation of the west coast of the Gulf of Tonkin in Vietnam. Halong Bay is recognized as a UNESCO's World Heritage Site (1994) with romantic scenery, spectacular landscapes.
Halong Bay is a place of heaven scene in Vietnam, it has never stopped spreading attraction for tourists in both domestic and international areas.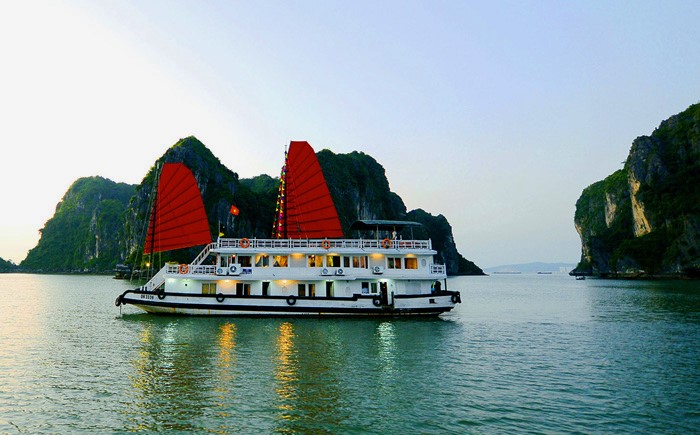 7 steps to choose your perfect Halong Bay cruise: Master Guide 2018
Halong Bay Weather: When to travel
Da Nang:
Da Nang is one of the most beautiful and cleanest cities in Vietnam. This city has many famous scenic spots such as Marble Mountains, Cu Lao Cham Island, South River and many spectacular beaches. Especially, Da Nang has many legendary bridges with unique architecture as Dragon Bridge, Han River Bridge. Da Nang also has quality security service, tourist will experience peaceful moments when traveling to this area.
Da Nang is located between 2 World Cultural Heritages: Hue and Hoi An. This position plays an important role in developing regional tourism, including quality accommodation, service, and traditional cuisine.
In Da Nang, tourist should once visit Hai Van Pass. It is one of the historical sites remaining from the ancient time and the scenic route in the Center of Vietnam. Hai Van Pass was built in Tran Dynasty, rebuilt in Nguyen Dynasty (1826).
Son Tra Peninsula is another ideal place for tourists, with various beach sites: But, Rang, Bac, Nom. Tourists will enjoy interesting moments when they experience the splendor of the sunrise and sunset of a quiet, charming area.
In Da Nang, tourists should not miss Han River – the first bridge in Vietnam rotation – the pride of the people of the city and Han River Bridge. Han River Bridge is a symbol of new life style, it was built by the contribution of all citizens. It seems that all the poetic beauties of Han River are perfectly exposed in the space of the Han River Bridge.
Han River Bridge, Thuan Phuoc Bridge and Dragon Bridge are not only creating more convenient conditions for transportation, tourism, potential economy of a large area in the east of the city but also featuring cultural identity of Da Nang.
7 Places to Visit in the Central of Vietnam 2018
Hoi An:
Featuring peaceful and tranquil scenery, Hoi An ancient town is a rustic, simple and poetic area in the Center. Hoi An still preserves cultural platform, which are spectacular and bulky. In Hoi An, tourists will explore more about local people and their lifestyle in customs, religious activities, folk arts, cultural activities with romantic natural landscapes, specialty dishes, making Hoi An as the attractive site for international and domestic tourists.
Hoi An ancient town is located in the downstream of Thu Bon river, Quang Nam Province. It is 30km from Da Nang to the south. In 17th -18th century, Hoi An was the busiest international trading port in Southeast Asia. But by the 19th century, the waterway is no longer favorable, boats of international customers were decreased, trading port of Hoi An was impoverished.
Thanks to that, Hoi An fortunately avoid the distortion of urbanization, preserving the ancient beauty of an trading port. In 1999, Hoi An was officially recognized by UNESCO as World Cultural Heritage. Hoi An is one of the most attractive destinations in Vietnam and the world.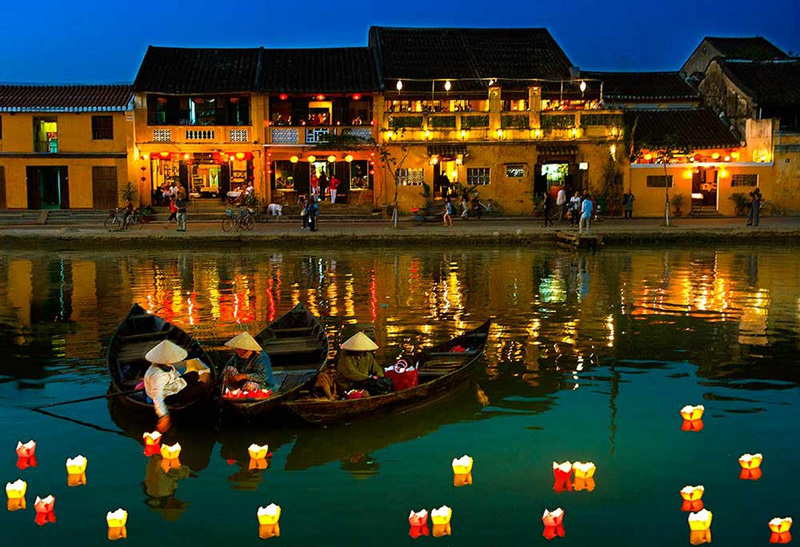 2 or 3 days in Da Nang and Hoi An
Hue:
Located in both sides of the Perfume River, which is the world's cultural heritage, Hue possesses valuable historic relics: Imperial Citadel, Tomb of Minh Mang, Tomb of Gia Long, Thien Mu Pagoda, Temple of Literature. Hue is also admired by the scenic spots like Ngu Binh Mountain, Thuan An beach, Lang Co beach and Tam Giang lagoon. Royal Music (Nha nhac cung dinh Hue) is one of the unique cultures of this area.
Hue is the ancient citadel of Vietnam in Ly dynasty. This place features many spectacular sites for tourists: Lyrical Huong lake, beautiful Lang Co beach, Truong Tien bridge.
There are many attractive destinations in Hue that tourists can not miss:
Imperial Citadel: It is located inside the city of Hue, considering as the first place tourists should visit when traveling to Hue. After more than 100 years, these massive structures still remain in the Citadel with mysterious history, featuring the hidden charm of the feudal time in Vietnam. Imperial Citadel is quite large, it will take about 1 day to explore.
Ca Tru (folk music) on the river: The Perfume River is the pride of Hue tourism and local people. In the evening, when the weather is pleasant, tourists can experience the city at night and listen to the traditional melodies on a boat.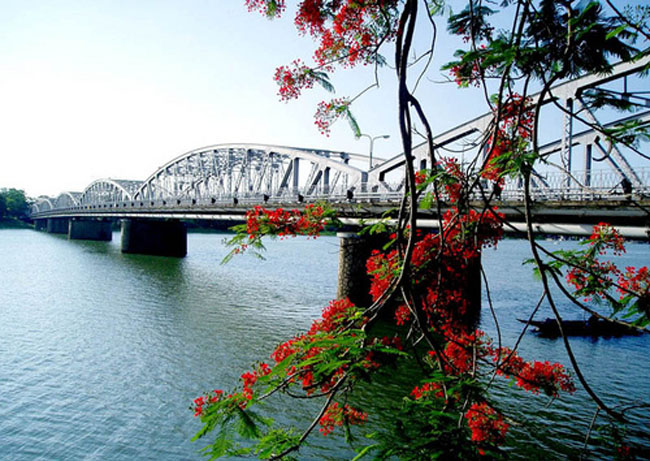 Ho Chi Minh City:
Ho Chi Minh City (Saigon) is the busiest city in the South of Vietnam. Saigon – Ho Chi Minh City is also a major tourist center, with many historical sites, beautiful spots and museums. This area is also marked the war against the French and Americans in 19th century in Vietnam. There are 11 must-visit museums in this area, including War Remnants Museum – the most famous war exhibition in Vietnam.
Along with that, tourists should not miss many attractive sites in the 1st crowded people of Vietnam: City Hall of Ho Chi Minh People's Committee, Opera House, Central Post Office, Nha Rong Port, Ben Thanh Market and the Independence Palace. Recently, new projects such as Diamond Plaza, Bitexco Financial Tower, Saigon Trade Center are changing the trend as well as modern lifestyle of Saigon-Ho Chi Minh city. On the city outskirts, there are also prominent attractive sites with the famous destination is the Cu Chi Tunnels.
Check out our new Vietnam tours for 2017 for the package most suit your plan
Where to visit when travel to Mekong Delta Vietnam in Winter and Spring 2018
Best Vietnam tours if you travel to Vietnam in December:
– Most interesting destinations of Vietnam
– Treasures of Vietnam from Saigon to Hanoi
– Ideal Vietnam and Cambodia Tour Packages
Start planning your tailor-made Vietnam tour by contacting one of our specialists…