Hanoi Old Quarter – Hanoi 36 old streets "Pho Co Ha Noi"
Hanoi, the capital city of Vietnam, has attracted so many tourists over the years is its Old Quarter (36 old streets and guilds). It is an area well-known for the history, the architecture, the enormous amount and diversity of products and even the everyday life of its residents
In 36 Streets Old Quarter or Pho Co Ha Noi, on which we are working, proud of their long history and have distinctive characters of traditional culture. When considering architectural conservation, it is indispensable to present authenticity of the designated area. This study will examine it based on these tree points: structure of shop house, formation of city block, and architectural figure in the streetscape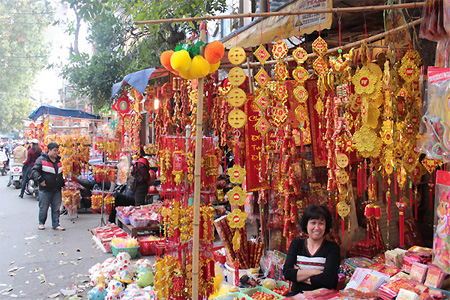 For the names' origins; Due to their long-lasting age, they are called "Old Quarter" or "36 Old Streets" (as consisting of 36 member streets). "Ha Noi's 36 districts" is Vietnam's version of the guild concept. In the past, as artisans moved to the capital city to do business, they gathered together in this area to share the resources. As a result, many of the streets were named after the crafts sold at that individual street. Pho Hang Bun (Vermicelli), Pho Hang Ma (Paper Product), Pho Hang Bac (Silver), etc. are examples of the streets carrying the name of the products sold there.
The phrase "36 pho phuong" often causes much confusion for most people; "Phố" means a street or a place for merchants to gather to do business, while "Phường", a district or a guild of artisans specializing in a particular trade (phuong cheo, phuong tho, etc.). Yet, in any case, both are right to some extent.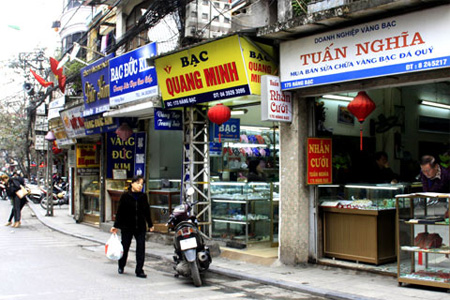 Most tourists are eager for exploring the old streets well-known for each one's specialized industry. Hang Gai Street offers silk clothing ready-made and tailored, embroidery, and silver products. Hang Quat, the street that formerly sold silk and feather fans, now stuns the visitor by its brilliantly colored funeral and festival flags and religious objects and clothing. To Tich Street connects the above two and is still the wood turner's street. Hang Ma glimmers with shiny paper products, such as gift wrappings, wedding decorations and miniature paper objects to burn for the dead. Lan Ong Street is a sensual delight of textures and smells emanating from the sacks of herbal medicinal products: leaves, roots, barks, and powders, etc. Coming here, you may feel as if you were in a classical-styled area in terms of both architecture and product types!
Although many of the streets no longer sell the products after which they were named, some still do. Today, the Old Quarter has become the unique classical feature of Hanoi, and the inspiration of numerous writers, poets, and painters, and one of the desired tourist destinations in Hanoi.
Things to do in Hanoi:
Start planning your tailor-made Vietnam tour by contacting one of our specialists…