Best places to visit in Vietnam in August
August is summertime in the North with sunlight and rain, rainy season in the South, summer typhoons are about to come but August there are still good reasons to visit Vietnam in the month.
Here are best places to visit in Vietnam in August. Have a good time on your trip to Vietnam:
Cao Bang
Cao Bang is well – known for the grandiose mountains, immense rivers and springs as well as the primary forests. One of the most famous and beautiful destinations in Cao Bang is Ban Gioc Waterfall – the world's fourth largest waterfall. The Waterfall is the largest natural waterfall in Indochinese peninsula. It lies between two nations China and Vietnam. Tourists also can visit the Pac Bo cave where has Karl Marx mountain and Lenin stream.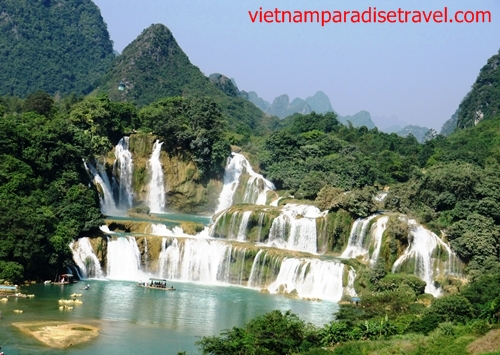 Cao Bang has a rich variety in topography because it is around 30 km away from Vietnam with China's boundary and located on the bank of Bang Giang River. Therefore, the cuisine here is abundant and diverse. Visiting Cao Bang, it would be inadequate if we omit some specialties that can only be found here such as: Coong Phu cake, Trung Khanh hazel nuts, folium sauropi, steamed rolled rice pancake, sour noodles, da hien, bo khai, even bee's pupae. You should visit Cao Bang in August because that time Ban Gioc Waterfall is full of crystal-clear water.
Hanoi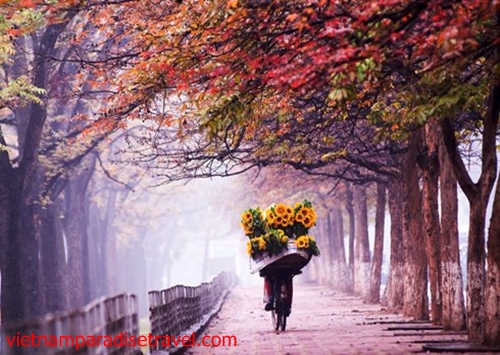 Hanoi in autumn exists in many Vietnamese songs and poems because of its beauty and romance. Hanoi in autumn is famous for the fragrant Milk Flower. The trees line streets, perfuming the night air and creating an area of romance for boys and girls meeting on a date. Coming to Hanoi in autumn means having a chance to see the leaves change color, enjoy Com (young green rice) and the feeling of warm sunlight, cool breeze and dry atmosphere. Visiting Hanoi in autumn, international tourists can also see the bride and groom wearing traditional wedding dress taking their wedding photos in the old quarter, romantic roads such as Xuan Dieu, Kim Ma, Thanh Nien, etc and other beautiful places such as parks, the Opera House, the cathedral. Enjoy your Vietnam tour in August in Hanoi to know how beautiful Hanoi autumn is.
Halong – Cat Ba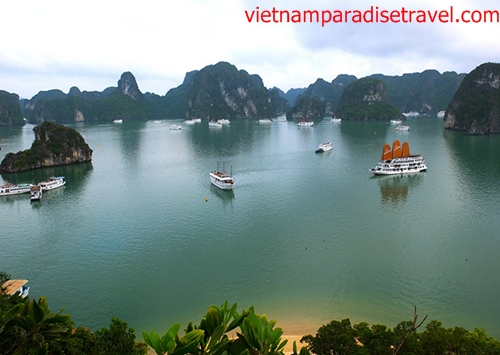 Halong Bay is not only one of the World Heritage Sites but also the jewel of Vietnam tourist sites. Your Vietnam tour in August is certainly an exciting memory with the majestic bay and mysterious caves. Your Vietnam tour will be more unforgettable with one or two night on a cruise. Nothing can compare with the comfortable feeling and relaxation when your family enjoys the delicious seafood cooked and served by the skillful cooks while seeing the most beautiful and romantic natural sites in the world. You also have a chance to swim in the emerald green waters and discover the dreaming extraordinary landscape.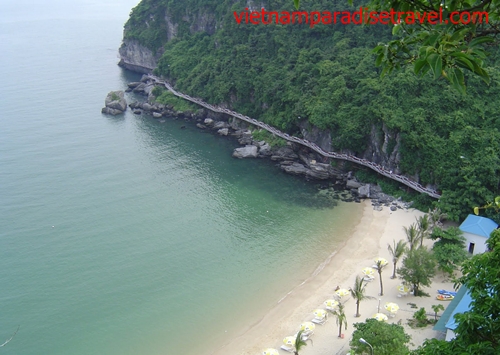 Visitors also can move from Halong Bay to Cat Ba Island by high-speed boat. Cat Ba is an island connected to Halong Bay to create many sea caves on fascinating visitors. Visiting Cat Ba, visitors will enjoy the fresh air to assimilate themselves into the beautiful nature.
Hue
Located on the banks of the most romantic river in Vietnam – Perfume River, Hue – the capital of Nguyen Dynasty has been recognized as a World Heritage Sites by UNESCO. This city with royal tombs along with an excellent museum as well as numerous ruins exists in many Vietnamese songs and poems making Hue a poetry land. Visitors who love discovering exotic culture and history have listed Hue on the top of must-visit destinations because of its costumes and featuring art. Imperial City, Forbidden Purple City, and Inner City are the Citadels which is the perfectly mixture of characterizing ancient architecture. Tourists also can view the Tombs of Emperors when cruising along the Perfume River, seeing charming scenes, and watching royal art performance. Another major attractive destination is Thien Mu Pagoda – the official symbol of Hue. Hue is not only impressive with the ancient architecture but also proud of the most beautiful beaches in Vietnam such as Thuan An beach and Lang Co beach.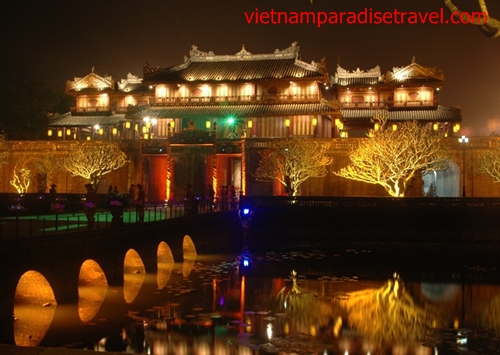 People say that Hue is the pinnacle of cuisine, fashion and language in Vietnam. Hue women are reputed the most perfect in their image of wearing the traditional violet-colored silk Ao dai and their charming personality. With Hue people, Cuisine is a form of art. Therefore, Hue foods satisfy not only the visitors but also the pickiest diners. The most famous and delicious dishes are Noodle with beef in Hue style (Bún Bò Huế), Rice with small clams (Cơm Hến), and Rice vermicelli with beef and pork (Bún Bò Giò Heo). There are still many other dishes of Hue loved by international tourists. Hue is the worth tourist destination with the traditional culture, romantic and picturesque scenes.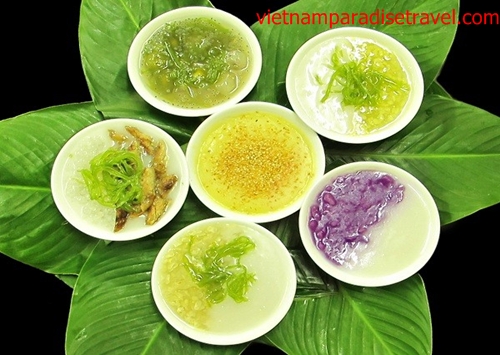 Hoi An
Located in Quang Nam province, on the banks of Thu Bon River, Hoi An is said to be an Eastern Oriental classic captivation. The weather in Hoi An is comparatively warm during the whole year. It is good for tourists to visit Hoi An any time when you have free time.Hoi An is the mix of old and new, the ancient architecture and the daily life of the local people.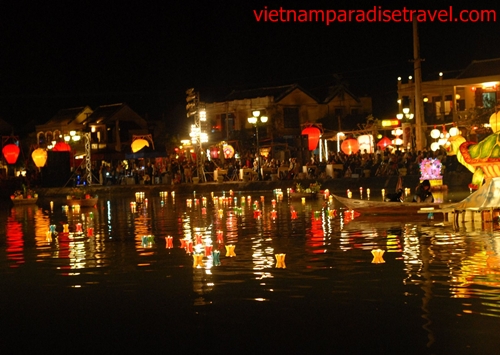 Hoi An has quiet and romantic beautiful with old houses, quiet streets, the dishes bringing Quang – people's soul will certainly be a nice space for families to make their relationship closer. In addition, tourists can also immerse themselves in the fresh water of Cua Dai Beach. Tourists should not miss the town's traditional houses, pagodas, halls and museums like Tan Ky House, Duc An House, and Tran Family Chapel. The best time to visit Hoi An is at the night of full moon – 0n the fifteenth of month. There will be power off and burn the lanterns, you can enjoy the ancient town of shimmering Hoi An.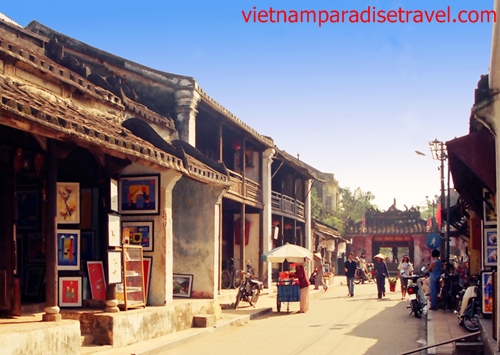 Hoi An is renowned for being shopping paradise selling wonderful antique pieces, handicrafts, souvenirs, and etc. It is even easy to have a tailored Vietnamese traditional cloth made by the famous dress-maker. Come to see and explore the charm of Hoi An yourselves, your Vietnam tour in August will surely be a life-time memorable journey.
Mui Ne
Belonging to Binh Thuan province and a coastal seductive southeastern part of Vietnam, Mui Ne has a long stretch of beautiful beaches and resorts. "Mui Ne" means the island for hiding. It is the ideal place for strenuous coast activities, especially windsurfing and kite-surfing because of strong sea breezes. Mui Ne is also well – known in the saying "When Nha Trang and Hoi An get the rains, Mui Ne gets the waves" because it has a dry and hot climate for most of the year. From August to December is the best time to visit Mui Ne. The wind is strong and the wave is choppy.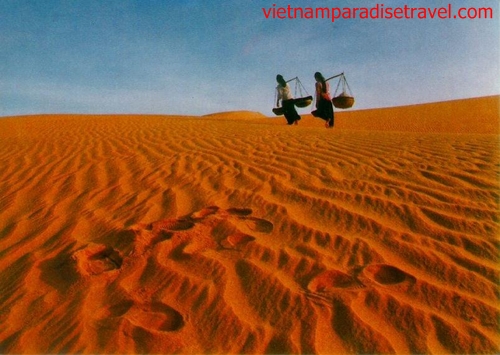 Sand Dunes – a fairy sandy area with orange sand look like a hill with slopping sides is another beauty spot of Mui Ne where tourists can try sliding sand. The sunlight, white sand shaded by coconut trees and teeming blue water and even fresh seafood will make your Vietnam tour in August more exciting.
Best Vietnam tours if you travel to Vietnam in August
Want to book a trip to Vietnam in August? Comment on this article and we will customize activities for your unforgettable holiday to our country!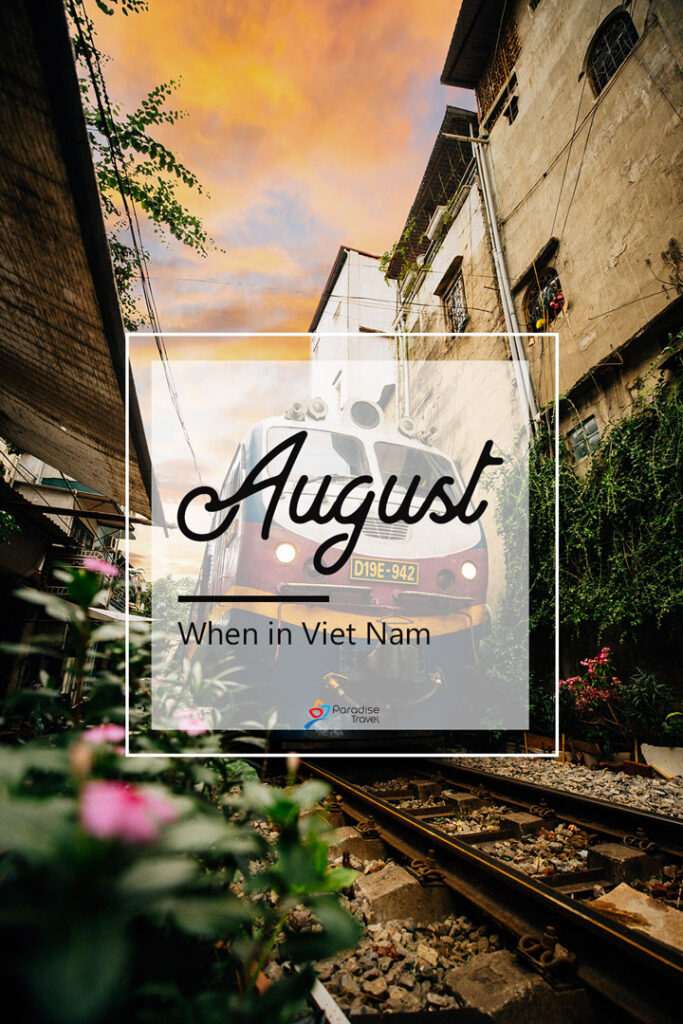 Start planning your tailor-made Vietnam tour by contacting one of our specialists…