Best places to visit in Vietnam in July
July in Vietnam is the time to find a private space to enjoy yourself with your friends or family as well as to enjoy the majestic valleys, tropical forests, mountain ranges, golden beaches, and unspoiled nature.
July in Vietnam is Summer in the North, it is quite hot with average temperatures above 30 – 37 degrees Celsius. Wet but sunny in the Central and South, July in these areas is better than in the North
Here are the best places to visit in your holiday in Vietnam in July:
Bac Can
Bac Can – well known for its cultural identity charm and abundance in natural resources is rich in tourism potential. Visiting Bac Can means that going to Ba Be National Park and tourists cannot skip Ba Be lake – the Vietnam largest natural freshwater lake. "Ba Be" means three lakes, so Ba Be is formed by the three large lakes (Pe Lam, Pe Lu, Pe Leng). Visiting Ba Be, you cannot omit enjoying a boat ride on the lake's surface, bathing at Ba Goa Island (Widow's Island), or gazing in admiration the karts features of Puong cavern. Moreover, you can also visit others caves and caverns such as: Chamois (Son Duong), Na Poong, Three Gates (Ba Cua) or Fairy (Nang Tien)…Ba Be Lake's water is of crystal clear aqua and looks like a precious emerald. Besides the beautiful lake, mysterious caves and cravens, Bac Kan also has many specialties. Tourists should enjoy Dong vermicelli (a type of arrowroot noodles), Bo Nam wines (a kind of sweet wine fermented from herbs and corn), and Bee sweet soup (made from sticky rice, sesame, molasses ginger root, and honey). People who live in here have endless thing to be proud of such as:  Quang Thuan tangerine, field mushroom, Bao Thatravei rice, potato, taro, and ginger… With its own feature, Bac Can will be the wonderful destination for your tour in Vietnam in July.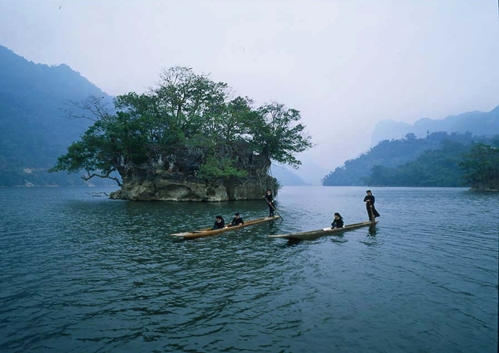 Sapa
Sapa is always beautiful in four-seasons. Sapa has a majestic, dreaming and romantic beauty. Spending your Vietnam tour in Sapa, you not only have a chance to enjoy the fresh air of a region of the northwest, but also visit the old French villas, 100m high Silver waterfall, and learn the life of H 'Mong people in Cat Cat Village. Specially, you can take part in the "Love market" on Saturday and climb the "Heaven Gate", "Cloud Yard" to record the images of Sapa town engulfed in fog. Sapa hotel price is not expensive. However to enjoy the fully Vietnam tour in July, visitors should choose the 3 or 4 star hotels. The weather in July is hot in Vietnam, but in Sapa, it is still cool and choosing Sapa, visitors never regret. The climate in Sapa is very good for your health. There are also many yellow terraced rice fields in Sapa in July. Seeing yellow terraced rice fields from high points brings tourists much emotion.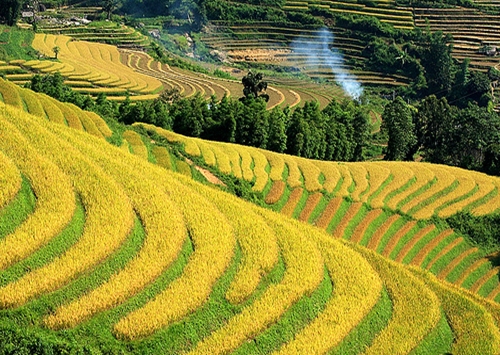 Quan Lan – Minh Chau (Quang Ninh)
Quang Ninh is famous for Ha Long Bay – the World Heritage Sites with the majestic bay and mysterious caves. In summer, Ha Long Bay welcomes a huge of tourist, and if you want to find another place to enjoy the private space, you can choose Quan Lan – Minh Chau for your destination. Quan Lan – Minh Chau is well – known for unspoiled beaches with white sands and blue water.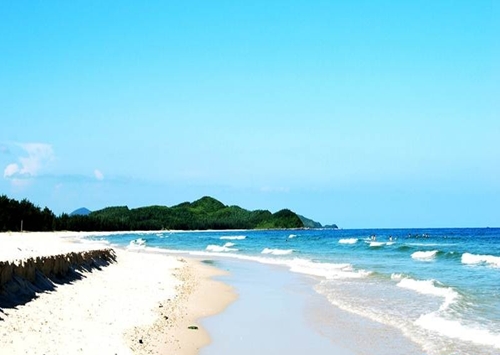 When you set foot on the island, you can see the coast with a lot of poplars and pines. Quan Lan has a breathtaking beauty like a princess sleeping under the sand. After arriving at the dock, the Tuk Tuk cars – the most typical means of transportation in Quan Lan Island pick you up to the center of Island. Visiting Quan Lan, tourists are impressed by the beautiful nature, peaceful space and the friendly – warm local people.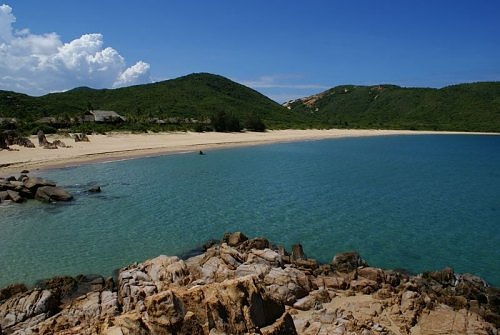 Minh Chau – a precious pearl of the sea is the freshest beaches in Vietnam with the stretching white sand with clear and green water. Minh Chau beach is safe for people and even for children to swim because of slow waves.
Da Lat
Da Lat is a desired destination because of its distinctive characteristics. Da Lat is also known as "City of Thousands of Pine trees", "Fog City", or "Love City". Lying in the Langbiang plateau, Da Lat is the green carpet and has four seasons of one year in Viet Nam on one day. The morning is like in the spring with a little bit warm shrouded climate and freezing fog. The weather turns into like in the summer in the noon by being a little bit hot. In the afternoon, it likes in the autumn with the feeling of cool and romantic atmosphere. When the night comes, the weather turns into cold like in the winter. Most of the time, Da Lat's climate is different from Vietnam tropical provinces because of its misty and cool weather. Da Lat is also known as the City of Eternal Spring with many blossoming flower gardens and romantic scenery. When you visit Da Lat, you can feel the European style in the architecture. Let's visit Da Lat in July to enjoy the best mountain hiking and biking, to have a look at the summer home of Bao Dai – the last King of Vietnam. If you are couples, Love Valley and Ho Xuan Huong Lake are the best choices for a romantic holiday or honeymoon. Da Lat is also renowned for Golden Spring Lake – unspoiled scenery and Thien Vien Truc Lam Monastery which offers a magnificent view over the dam below or extremely peaceful atmosphere in its garden of trees in animal forms. Your Vietnam tour in July in Da Lat is a chance to see a Vietnam unique beauty in a friendly environment and comfortable atmosphere.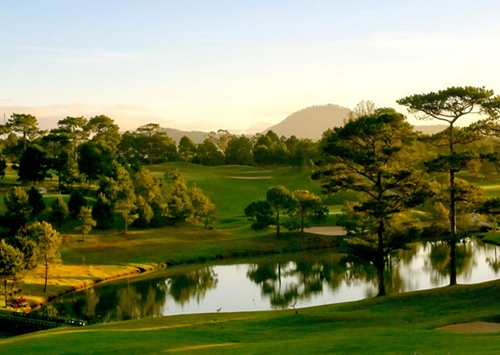 Can Tho
Can Tho where is renowned for interesting floating markets, delicious foods and verdant fruits, and beautiful Buddhist pagodas as well as friendly and warm people is the main and biggest city of the Mekong River Delta. Can Tho is also well – known in the saying "Can Tho, ivory rice, clear water". The most attractive places in Can Tho are Cai Rang Floating Market, Ninh Kieu Wharf, and Bang Lang Stork Garden. Visiting Can Tho means sailing through an intensive system of canals, observing the verdant gardens on the two river banks, seeing how interesting it is as the old constantly shrug with the new, and buying exotic and qualified products at floating markets.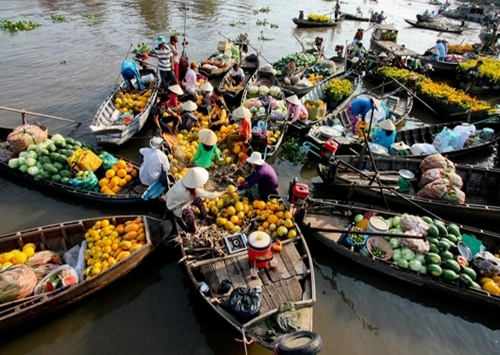 Moreover, when you visit Bang Lang Stork Garden, you can see thousands of storks in various colors and types flying gracefully in the sky, lying playfully at tree branches, calling eagerly for partners. Especially, the green orchard is dotted with the white color of storks made it look like cherry blossoms blooming in the spring.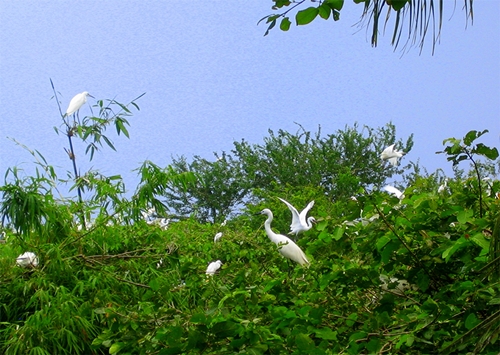 Can Tho is different from other tourist attractions because of it ecotourism areas. Taking part in the ecotourism tour, tourists can visit charming and beautiful gardens with blooming flowers, fresh fruits and delicious specialties.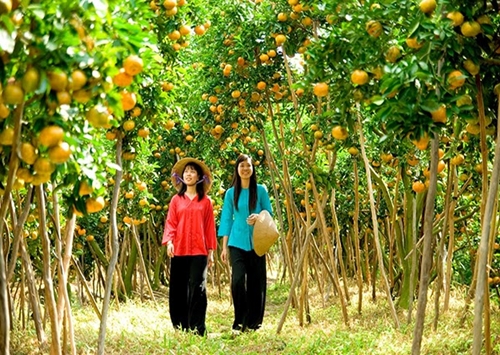 Con Dao
If you visit the South of Vietnam in July, you shouldn't skip Con Dao – a marine tourism paradise with peaceful scenes of sea, white-sand shore and mountain endorsed by Nature as well as the gentleness, friendliness of the people of the South. Con Dao has many beautiful landscapes and beaches. As one of 21 Vietnam national parks, Con Dao is the paradise for your vacation which more tourists choose now. You will admire the scenic beauty of clean and beautiful beaches as well as the rich seafood … you also get to experience the feeling of exploring deep ocean diving, coral viewing and fishing. The reason why many tourists desire to come back Con Dao is the unspoiled landscape of natural beauty with glorious echo of tragic history. Let's enjoy your vacation in this paradise!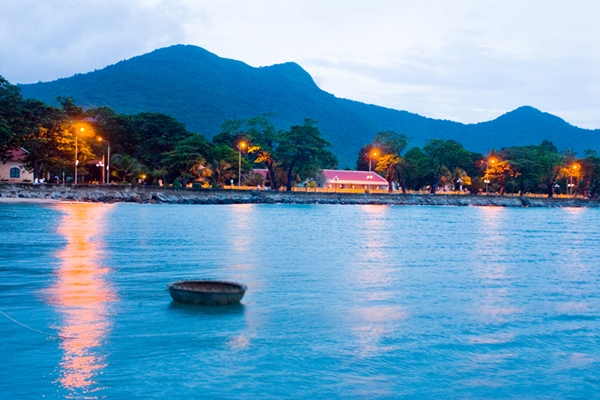 Best Vietnam tours if you travel to Vietnam in July
Pin this article for your trip to Vietnam in July!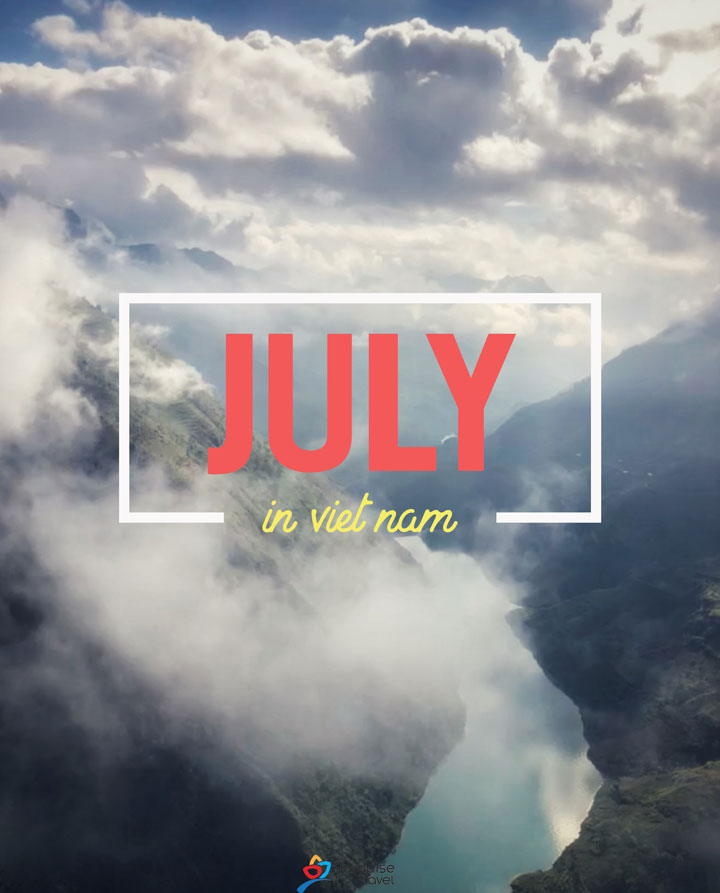 Start planning your tailor-made Vietnam tour by contacting one of our specialists…