Best places to visit in Vietnam in Spring
Spring is a short season in Vietnam which lasts from February to April.
Spring comes after National New Year Holiday – TẾT. There is a myriad of cultural, historical and religious events to be held in Spring, after the Tet Lunar New Year holiday.
Spring is a short season in Northern Vietnam which lasts from February to April.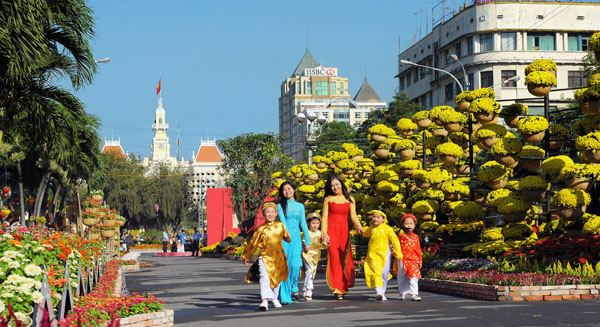 In the North, it is getting warmer in Spring with drizzling rains. The average temperature is around 19 Degree C
When spring comes, the weather starts warming up. Spring features peaceful atmosphere, blue sky, bright sunshine and warm breeze, convenient for long trips, picnics and visits. Sometimes you can see drizzling rain, too!
Mild climate of Spring creates favorable conditions for the trees and flowers to grow (plants grow and bud). Spring time is the special occasion of development and revival of life.
In spring you can see all the flowers blooming, especially apricot and peach – two of the most characteristic flowers spring Vietnam. Children are eager to buy new clothes with their parents for the National New Year and the flower market.
Lim Festival and Vieng market are the traditional festivals that tourists should not miss in Spring in their North Vietnam tour.
Lim festival
Tien Du District, Bac Ninh Province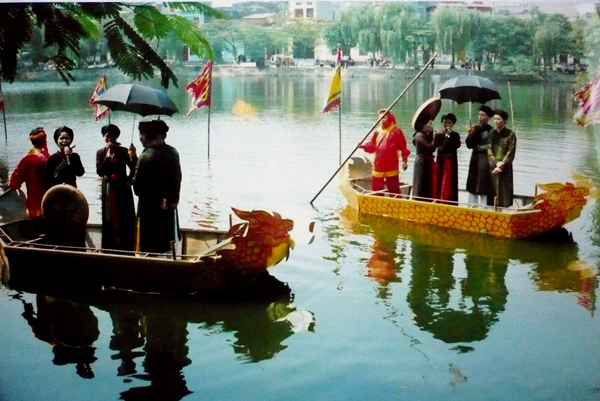 It is derived from the old legend, relating to Truong Chi- My Nuong. It is also the major festival of Bac Ninh area with plenty of artists, cultural activities and spiritual beliefs.
The festival is taken place annually from 12th to 14th January in lunar month.
(Bac Ninh) Dinh Bang Village Temple
(Bac Ninh) Dong Ho Painting Village
Vieng Market
There are 2 Vieng markets are held in the Spring, at the same province, different in place.
Market Vieng near Day temple, Vu Ban district, Nam Dinh province.
Market Vieng " Temple " near Bi Pagoda, Nam Truc District, Nam Dinh Province.
Vieng market is taken place on 8th January in lunar month, with various activities for local people and tourists. Many people come here to pray for lucks and meet friends in the first time of the year.
Along with various festivals in every region in Vietnam, Spring is the best time for tourists to experience and travel in some attractive places.
Sapa
Spring is the favorable occasion that tourists can enjoy a colorful picture with white of plum, romantic pink of peach blossoms in Sapa. Various roses, orchid are bounced to bloom in the first time of the year. Tourists also participate in many traditional games of ethnic communities in this area.
Hanoi

Hanoi in spring seems more glamorous and peaceful. All tranquil and charming features are brought to tourist unforgettable moments. On New Year's Eve, there are firework displays on the bank of Hoan Kiem Lake, Phu Tay Ho with splendid scenery. With pleasant weather in the Spring, Hanoi is more romantic than ever!
Best places to take photos in Hanoi
Top 3 must-see cultural museums in Hanoi
Yen Tu pagoda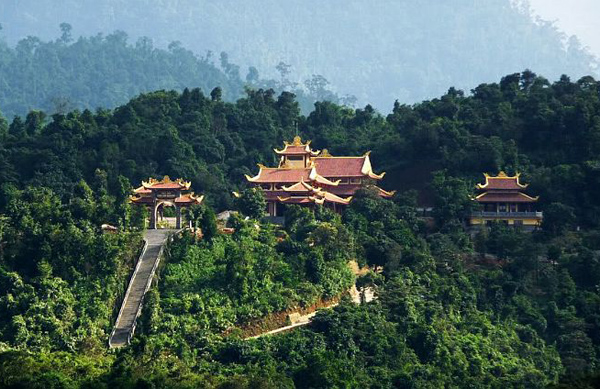 It is located on the town of Quang Ninh province, about 14km from Uong Bi. The pagoda consists of 11 temples, shrines, towers with more than 700 years old. They are located nearby spectacular scenery, it is suitable for tourists to go sight-seeing. Tourists will immerse in a quiet space, listening to the temple bell of the pagoda, enjoying relaxing moments.
Dalat city
Dalat is famous for all the spring flowers: Orchid, rose, peach blossoms. Taking a leisurely walk in Dalat, travelers do not forget to bring a thin jacket in case of cold weather, enjoying a cup of hot soy milk, fried bananas in Phan Dinh Phung and eggs baked.
Hue
Tet is the time that women in Hue have to prepare traditional cuisine for the Tet holidays. If travelers want a Tet traditional flavor, full of rituals in Vietnam, there is no more appropriate place than Hue. Hue is still preserved the oriental tradition of the traditional New Year's Day as organized kite flying competitions and enjoy royal court music on the Perfume River.
Spring is a special occasion for Vietnamese, starting a new year with something lucks, wealthy and prosperous wishes.
Read more:
Best places to visit in Vietnam in Summer
Best places to visit in Vietnam in Autumn
Best places to visit in Vietnam in Winter
---
Start planning your tailor-made Vietnam tour by contacting one of our specialists…