Location:
Ha Long Bay is situated off the coast of Halong City (170km far from Hanoi) and owns more than 3,000 islands rising from the emerald waters of the Gulf of Tonkin.
Area:
1,553 km²
When to go:
It is possible for visits to Ha Long Bay year-round. And winter months (from October to April) are said to be the best time although in months of December, January and February, the weather is often cool, drizzly and overcast with low visibility. During summer months (May to September), tropical storms are frequent and tourist boats may have to alter the itineraries depending on weather condition
Highlights:
Halong Bay is one the iconic natural beauties of Vietnam and unsurprisingly one of the most popular destinations in the whole of the country.  In 1994, it was designated Vietnam's second World Heritage Site and attracts a steady stream of visitors year round for the magnificent views of the bay and the relaxing boat trips. The crystal blue waters scattered with limestone peaks make for a vision that epitomises the wonder of Vietnam. The name translates as 'Descending Dragon Bay' because of the local legend of a family of dragons who descended to protect the bay from foreign invaders. This mystical origin is certainly fit for the otherworldly landscape. It is clear to see why this unique landscape consists of clear waters with thousands of islands that seem to rise up majestically out of the ocean with thick carpets of forest covering their peaks. Northeast of Ha long Bay sits Bai Tu Bay and to the south is Lan Ha Ba and Cat Ba Island, all of equal beauty and sharing a similar geological makeup.
What to do:
One of the most popular activities in Halong Bay is a cruise around the karst islands. Besides the breathtaking vistas, visitors come to Halong Bay for the perfect time spent on the boat to visit floating villages and explore the caves. There also have interesting relaxing activities such as swimming, fishing and kayaking. Also, this trip can be combined with a trip to the largest island of Cat Ba, which offers beaches, hiking in the national park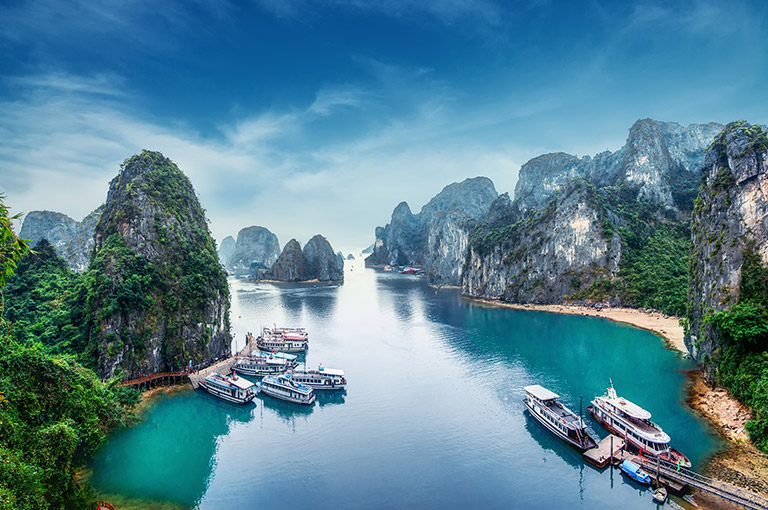 Nearby Ha Long City, Tuan Chau Island is a promising spot for relaxation. This island is being developed into a recreation complex with aquarium, circus, golf and resorts, and is becoming increasingly popular for Vietnamese tourists.
Travel tips:
There is different scale of prices for overnight tours to Ha Long Bay but beware that we just get what you pay for. Price differences are based on the quality of the boat, food, accommodation, transportation, crew as well as other invisible elements. Frequent questions to ask before making a booking are the group size on boat and on car, cabin type (with or without A/C), included and excluded services in the package so that you know what to expect in advance.