Location:
Ha Giang, 300 km away from Hanoi, located at the highest latitude in Vietnam. It is surrounded by Cao Bang, Tuyen Quang, Lao Cai, and Yen Bai. It shares a border with China in the north.
Area:
1,285.4 km2
Population:
Ha Giang is the place where almost 90% of the population is ethnic minorities with their own cultures and lifestyles, which create a unique and rich cultural heritage of the area.
Weather:
The climate is divided into two distinct seasons: rainy and dry season. Depending on the altitude, climate will change. The province is good to visit throughout the year. September to November and March to May are when the temperature is most pleasurable, in their mid 20's. The summer months can be quite rainy and in lower altitudes humid, expect more than 30 degrees. December and a bit into February the temperature falls, especially in the mountains
Highlights and what to do:
Ha Giang is a unique place that is untouched by mass tourism. Traditional practices and habits of these ethnic groups are very diverse and interesting, and they attract many travellers who have a chance to explore these unique aspects. The northern most place of Vietnam is the village Lung Cu which has the Vietnamese flag on Dragon mountain top. Lung Cu is known not only for natural and beautiful scenery but also for its many special foods and beverages. You can taste the alcohol made from honey and corn, or Thang Co soup, a very famous and adventurous dish which is cooked from every part of the animal.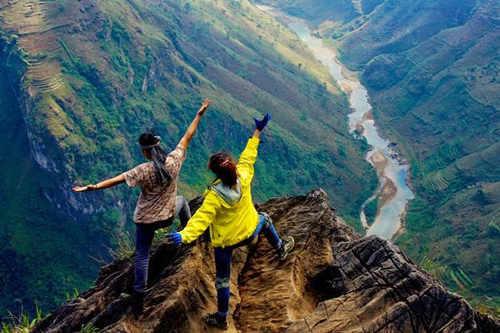 Coming to Ha Giang, you can go to Meo Vac town from Dong Van town, through the mountainous area at an altitude of 1,500 meters. This area is one of the most beautiful part of Ha Giang province. And make sure not to miss the Sunday Market, the unique event maintaining the social relations of the ethnic people. People from the surroundings come here to sell mostly their things but also animals or food.
There are many more attractive places for you to visit and experience in Ha Giang, such as Hoang Su Phi – the untouched nature, ethnic villages and cultural heritage, the Hmong king´s palace in Sa Phin or Ma Pi Leng Pass – one of the most beautiful roads you can ride in Vietnam.