Breakfast & Lunch & Dinner
After breakfast and farewell with the hosts, you take another trail back to Quyet Tien commune center, passing beautiful caves, streams and forests.
The Transfer bring you to Quan Ba District town, where you have about 2 hours time to take a shower and relax in the district guesthouse or take a walk through the small town.
Around 2 pm. Your guides will pick you up to travel by Transfer to Thanh Van Commune. After a short walk (30 minutes) you will arrive in Lang Tan village. Lang Tan is a small village of Hmong people. The village is placed in rugged mountains which makes planting rice difficult. In order to increase their income, the villagers developed a special maize wine production. After you have met the village leader and your second host family, then there is plenty of time is available to walk around in the pretty village and meet the people.
In the evening the group will enjoy a local dinner and sleep in Hmong style houses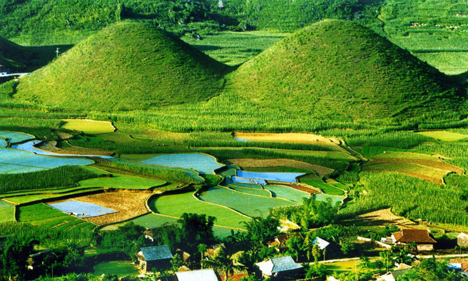 Quan Ba – Ha Giang