Best places to visit in Vietnam in February
February is among best time to visit Vietnam. There are many other events, festivals in Vietnam this month.
February is spring in the North Vietnam, dry season in the Central and the South. For Vietnamese people, this is the most important time of the year with Tet, Vietnamese National New Year.
Weather in Vietnam in February:
North of Vietnam and Hanoi are getting warmer in February with sunlight appears sometimes. Average temperature in Hanoi, Halong Bay is around 20 °C with low humidity, while it is still cool in highland travel areas of Sapa, Ha Giang. There is not much rain this season and is among the best time of the year to visit this area. It is still a bit cold sometimes in February in some part in North Vietnam so travelers should prepare warm clothes.
Hue, Da Nang, Hoian and Central area and southward to the South with Nha Trang, Ho Chi Minh City, Mekong delta are much warmer with average temperature around 26 – 30 °C, good time to visit or relax on beach.
Places to visit in Vietnam in February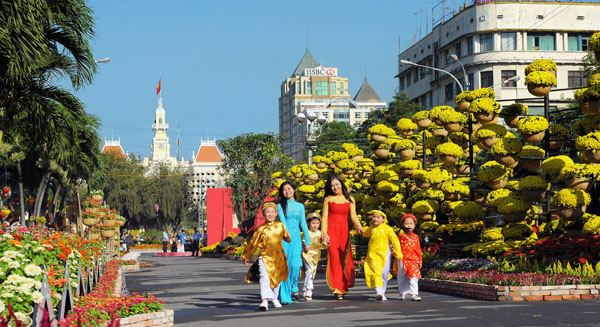 • Hanoi: City center, nearby villages to see local TET holiday activities
• Halong: Cruise on the bay
• Mai Chau: Home-stay
• Moc Chau: Home-stay
• Hoian: The town, nearby villages
• Ho Chi Minh City: The city, Cu Chi Tunnels, Mekong delta
• Phu Quoc: Beach vacation
The Vietnamese National New Year, Tết normally falls in February, this is biggest holiday of the country and there are many festivals before and after Tet almost every. The 1st date of 2017 Vietnamese lunar year is on 28 January (a bit earlier)
If you travel to Vietnam during Tet holiday, you should join with a local family to see how they welcome their new year.
Northern Vietnam in February
After Tet, these are festival travelers should not miss
– Lim festival: 13th of the first lunar calendar month. The festival is in Bac Binh province, 35 KM from Hanoi. The festival is famous with the Quan Ho folk songs and some traditional activities.
– Chua Huong festival (Perfume Pagoda): Opens on the 6th of the first lunar calendar month and never last until next open date.
– Yen Tu Pagoda festival: 10th of the first lunar calendar month. The pagoda is in Quang Ninh province, 130 KM from Hanoi, on the way to Halong Bay. To combine this destination with a cruise in Halong Bay, travelers need 1 day more.
February is good time for both classic and adventure travel to the North of Vietnam. During this spring period, flowers are blooming everywhere and travelers have chance to meet happy people with colorful dresses. This is best time for a family tours to Vietnam
Highlights of the North of Vietnam during February: Hanoi, Halong Bay, Sapa, Mai Chau
7 most attractive travel destinations in Northern Vietnam
Central Vietnam in February
Less rain and low humidity with sunlight, Central Vietnam in February is fine for sightseeing with Hue, Da Nang, Hoian, My Son Holy Land. And of course, beaches in this area are also interesting
7 Places to Visit in the Central of Vietnam 2018
Southern Vietnam in February
Not too hot or much rain, South of Vietnam with beaches Nha Trang, Muine, Phu Quoc are wonderful. Mighty Mekong delta, Saigon metropolis are the destination to visit.
4 Places to Visit in the South of Vietnam 2018
Best Vietnam tours if you travel to Vietnam in February
– Beach Resorts of Central and South Vietnam
– Central Vietnam With World Heritage
– Discover Vietnam, country of Dragons tour
– Highlights Of The South of Vietnam tour
Start planning your tailor-made Vietnam tour by contacting one of our specialists…