The boat sets sail to cruise into the Bay. Find yourself getting acquainted with the facilities on board. A delectable buffet lunch with a feast of choices is served in the restaurant. Savor your first hours in Halong Bay on the sun deck by simply let your eyes wander around the scenery.
We arrive at the area of Cua Van floating fishing village. From here we start to explore a cave, named Tien Ong, and the floating fishing village. Tien Ong is the most recently explored cave. It shows evidences of human civilization dating back to 10,000 – 8,000 BC. The cave is just 5 meters above sea level, 50 meters deep and covers 1000 square meters. Our guide takes you on a loop though the cave and explains about the historical findings and the cave's particularities.
The voyage continues to the fishing village. With a small bamboo boat rowed by the local people we move around in the calm sea of this secluded area and gain an insight into the village life.
After returning to the boat we sail to the overnight mooring area Luom Bo. During this time Halong Bay reveals its most magnificent beauty – we call it the "blue hour". Rewind on the sun deck with a drink of your choice and let the moment sink in. During the sailing time our Chef demonstrates as well the preparation of particular Vietnamese dishes. Feel free to join and practice by yourself.
Dinner is served in the restaurant either à la carte or buffet style. Afterwards the night is yours to kick-back and abundantly enjoy these unique moment amidst a surreal landscape. A presentation in our dining area with more interesting facts and insights on Halong Bay is also offered after dinner. We wish you a good night in Halong Bay where once upon a time Dragons played with sparkling jewels.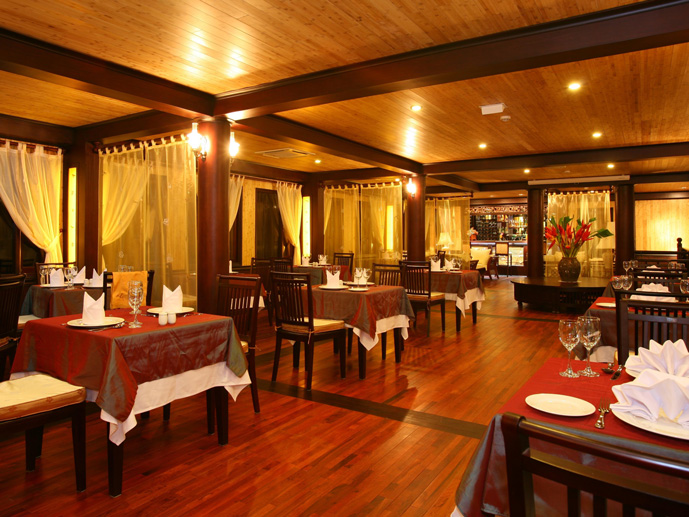 Jasmine Cruise's Restaurant