Essential Myanmar - Tours to main attractions of Burma
Essential Myanmar - Tours to main attractions of Burma
Day 1: Yangon
On arrival you will be welcomed by Paradise Travel tour guide and transferred to your hotel for check-in. Drive through downtown to explore the city centre and its fabulous mix of architecture and sites. The streets are filled with historical buildings many of which have a faded colonial charm not seen elsewhere in Asia. You'll start at the post office - a lovely historic building - and to Sule Paya in the middle of downtown, passing by Strand Hotel, Mahabandoola Garden and Independence Monument along the way. Then visit Little India and Chinatown - stop to greet the vendors and let them introduce you to their wares - some familiar, some exotic. Photo stop at the Karaweik Hall royal floating barge. Nothing will prepare you for Shwedagon Pagoda, with its glittering gold stupa. At the pagoda, observe local pilgrims and monks offering their devotions and enjoy the amazing sunset view at Shwedagon pagoda.
Day 2: Yangon - Heho - Inle Lake
After breakfast, fly to Heho, our gateway to Inle Lake. Known as the most beautiful lake in Myanmar, Inle Lake's calm waters are surrounded by high hills and dotted with floating gardens and stilted villages. Then drive to NyaungSh - pick up the boat & transfer to your hotel for check in. Enjoy the full day tour by boat in Inle lake. The five Buddha images of Phaung Daw U Pagoda are the holiest in Inle Lake. Next, visit a unique Monastery on the Lake Nga Phe Kyaung, near Ywama village where the local Monks have trained the cats to jump through hoops, it is now affectionately known as the jumping cat Monastery. Proceed to Nampan village and see local cigar [cheroot] making and canoe carving.
Day 3: Inle Lake - Indein - Mandalay
Continue our sightseeing in Inle Lake, maneuvering by boat though long, scenic channnels where you can watch the farmers cultivate their produce in "floating gardens". You will visit the fascinating village of Indein, with it's complex of ancient shrines and stupas and walk though exotic colonnades of stairways and shop stalls. You'll visit the "long neck" tribal women, and weaving and craft villages perched on stilts. See the lake's unique "leg rowers" - the Intha people row standing up with one leg wrapped around an oar. It is a feast for the senses and a photographer's dream. Take late afternoon flight to Mandalay.
Day 4: Mandalay - Amarapura
After breakfast explore legendary Mandalay, a city of great cultural importance. Visit the second most sacred image in Myanmar next to the Shwedagon Pagoda is the Mahamuni Pagoda. Next visit Golden palace Monastery famous for its intricate woodcarvings. Continue to the Kuthodaw Pagoda, which is known as the world largest book due to the Buddhist scripture carved on 729 marble slabs. Before sunset visit a 200-year-old teak bridge, the most photographic site in Myanmar.
Day 5: Mandalay - Bagan
Early morning flight to Bagan. Begin our exploration of Bagan by visiting a busy local market and gain an insight into the bustling market atmosphere in Bagan. You will spend the day exploring the architectural masterpieces of this amazing town by visit to a diverse selection of the most important pagodas and temples. Also visit a local lacquerware workshop and watch men and women ply their craft using traditional methods. In the late afternoon climbing to the top of the Temple for sunset views. Sit back relax and be amazed by the beauty of Bagan as you watch the sun slowly set behind the ancient Pagodas.
Day 6: Bagan - Mt. Popa - Yangon
In the morning drive (45 km drive) to Mount Popa, an extinct volcano with spectacular views, 4981 feet above sea level. 777 steps lead up to the Buddhist shrine place on the top of the Popa peak. On the top of mountain there are monasteries, pagoda and shrines indifferent styles. In the afternoon back to Bagan transfer to airport for flight to Yangon.
Day 7: Yangon - Departure
After breakfast, day at leisure until transfer to airport for International departure flight.
Prices are in USD, per person
Validity: From 01 January 2018 To 31 December 2018

| Hotel/Group | 2 guests | 3~4 guests | 5~6 guests | 7~8 guests | 9~12 guests | Single surcharge |
| --- | --- | --- | --- | --- | --- | --- |
| 3 Star | 918 | 831 | 720 | 710 | 660 | 119 |
| 4 Star | 996 | 909 | 800 | 790 | 738 | 195 |
| 5 Star | 1149 | 1049 | 950 | 940 | 880 | 336 |
Planning a trip? Ask us here
Related Tours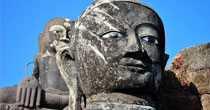 The Lost City of Mrauk U
Price from 465 $US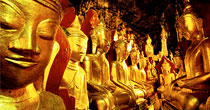 Last Golden Land in Southest Asia - Myanmar tours
Price from 1420 $US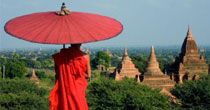 Myanmar Customize Tours
Price from 1868 $US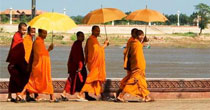 Discover Myanmar at the edge of new era
Price from 1520 $US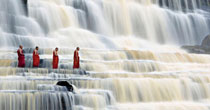 The Very Best of Myanmar
Price from 729 $US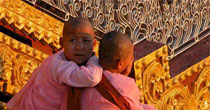 Yangon & Golden Rock Tour
Price from 576 $US