Breakfast
Am: This morning you may want to wake up early and participate in the daily early morning ritual of saffron-clad monks with their black Alms-giving bowls being given offerings from the local people, including the ubiquitous sticky rice. Have breakfast at hotel.
After that you are transferred to boat pier for boarding a cruise upstream on the Mekong river which also gives us a taste of the tranquil countryside and an interesting visit to the mysterious of Pak Ou Caves, crammed with thousands of gold lacquered Buddha statues of various shapes and sizes. Along the way, we stop st Ban Xang Hai to visit the rice wine distillation. Have lunch at restaurant.
Pak Ou Caves
Pm: This afternoon you continue driving to the beautiful Khoangsi waterfall where you can splash around in the pools or walk along the forest paths, return to Luang Prabang by late afternoon and continue to Ban Phanom, a well known weaving village, return to the city by late evening for observing the sunset at Wat Siphouthabath. Have dinner at restaurant.
Overnight at hotel.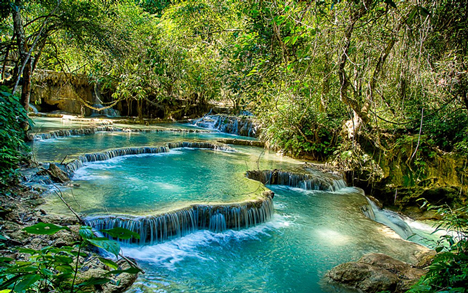 Khuang Si Waterfalls