Breakfast & Lunch & Dinner
06.30: Enjoy Sunrise over the Bay or take part in our morning Tai Chi session.
06.45 – 07.45: Coffee, tea and breakfast pastries served in dining room.
08.00 – 08.30: Full Breakfast will be served in dining room.
08.30 – 09.00: Pack lightly; swimwear and a set of clothes. Towels will be provided. As there are different activities during the day please bring both shoes and flip-flops.
09.00: Transfer by tender to the "Day Boat" . Begin to cruise to some of Bai Tu Long Bay's more Untouched Locales. Exact locations depend on tide conditions.
09.30 – 16.30: Enjoy a leisurely day of Sightseeing  and Swimming. A multi- course Lunch will be served mid-day.
16.30: Return to Victory boat.
18.30: Anchor for overnight at Cong Do area.
18.30: Cooking demonstration in restaurant.
19.30 – 21.00: Savor a delicious Set Dinner in dining room.
21.00 – 22.30: Activities: Relax on deck, Beauty Spa services, drink service available or night time fishing.
23.00: Relax, enjoy fresh air & overnight on board.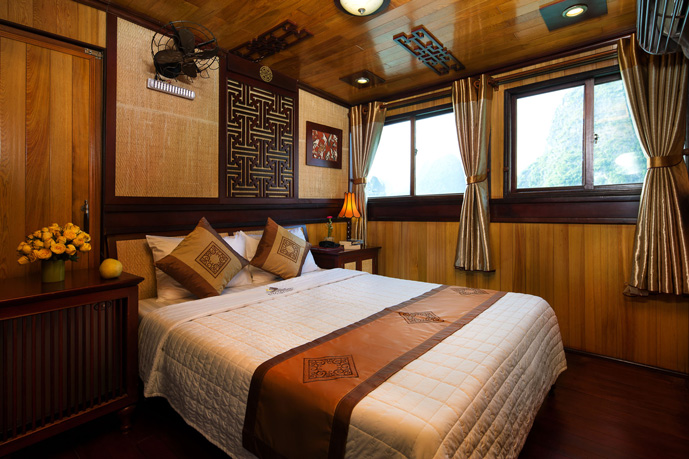 Double Cabine