Phnom Penh - Siem Reap
Day 1: Arrival Phnom Penh
AM Upon arrival at Phnom Penh Airport by morning flight, you will be welcome by our friendly tour guide then accompany you to the hotel. The capital city of Phnom Penh was once considered the loveliest city of Indochina. Despite its recent turbulent history, it still maintains considerable charm. A city tour acquaints us with some major sights of Phnom Penh. This morning start visit Wat Phnom (rebuild in 1434, 1806, 1894 and 1926), a small hill crowned by an active Wat (Pagoda) marks the legendary founding place of the Phnom Penh. Then visit Yeay Penhs statue (grand mother Penh) at southwest of the hills, who found four statues of the Buddha and she was build a hill or Phnom in AD 1372 for placed a shrine on top to the house the precious artifacts. The Victory Monument, build in 1955, it is the symbolize Cambodian Independence regained from French colonialism in 1953. Then visit Tuol Sleng Genocide Museum (S21 prison). This prison was a high school, and used as a prison by Pol Pot's security forces and became the largest center for detention and torture during the rule of the Khmer Rouge. Lunch at local restaurant
PM In the afternoon, visit National Museum, it was build in 1917and designed in Khmer style by famed French architect Georges Groslier & Ecole Des Arts. The museum has a good collection of Khmer sculptures dating from the pre-Angkor period (4th centuries) to post-Angkor period (14th centuries). Then visit Royal Palace; built by King Norodom in 1866 on the site of the old town, Silver Pagoda, Located within the grounds of the Royal Palace, the Silver Pagoda is so named because of its floor, which is made up of 5000 silver tiles. When you exit from the Royal Palaces, Then continue your visit to the riverfront, it is the most popular place for the tourist. The view of the confluence of Mekong and Tonle Sap River is the geographically unique Dinner at local restaurant, O/N at Phnom Penh
Day 2: Phnom Penh - Siem Reap
Breakfast at hotel
AM Visit the notorious Killing Fields "Choeung Ek "15km southwest of Phnom Penh. This one is the site of brutal executions of more than 17,000 individuals, most of whom first suffered through interrogations, torture and deprivation in Toul Sleng Prison during Pol Pot regime (From 19751979). Then return back on the way drop and visit to the handicraft shop, spa and vocational training restaurant. This place was created in 1996 by Pour un Sourire d Enfant (PSE) www.pse.asso.fr. Is the NGO that aims to rescue Cambodian children who are forced to scavenge through the rubbish dumps to survive, especially around Steung Mean Chey garbage dump in Phnom Penh. Today we prefer you to have lunch over there.
PM Visit Central Market (Phsar Thom Thmei), the distinctive art-deco styling of this market makes it stand out among the architecture of Phnom Penh, where you can shop for souvenirs, clothes, jewelry, silver products, then transfer to Phnom Penh Airport for short flight to Siem Reap. On arrival met and transfer to hotel for check in. Dinner at local restaurant, O/N at Siem Reap. The town of Siem Reap is our base for visiting the world famous temples of the ancient city Angkor, which is home for the capital of the powerful Khmer Empire dating from 802 AD to 1350 AD. This stunning and extensive site sprawls through the dense jungle, over an area of 60 square miles
Day 3: Siem Reap - Tours
(Optional for view sunrise at early morning)
Breakfast at hotel
AM Visit the antique capital of Angkor Thom (12 century): the South Gate with its huge statues depicting the churning of the ocean of milk, the Bayon Temple, unique for its 54 towers decorated with over 200 smiling faces of Avolokitesvara, the Phimeanakas, the Royal Enclosure, the Elephants Terrace and the Terrace of the Leper King. Lunch at local restaurant
PM Visit Angkor National Museum & to the famous temple: Angkor Wat. Angkor Wat is a World Heritage Site since 1992, famous for its beauty and splendor. Angkor Wat features the longest continuous bas-relief in the world, which runs along the outer gallery walls and narrates stories from Hindu mythology, visit Bakheng Temple and enjoy a romantic sun set view form Bakheng Hills. Dinner and enjoy with Aspara Dance Show at local restaurant, O/N at Siem Reap. (Optional for elephant or balloon riding)
Day 4: Siem Reap Tour - Departure
Breakfast hotel
AM Visit Ta Prohm, one of the areas most beautiful temples. Ta Prohm has been relatively untouched since it was discovered and retains much of its mystery. Neak Pean, a fountain built in the middle of a pool (representing the paradisiacal Himalayan mountain-lake), Ta Som, built in late 12th century C.E. the most distant temple on the grand circuit, small but classic. Preah Khan temple, Built by the King Jayavarman VII. Lunch at local restaurant
PM Visit the unique interior brick sculptures of Prasat Kravan, Srah Srang ("The Royal Baths "was once used for ritual bathing), Banteay Kdei (surrounded by 4 concentric walls), Ta Keo, constructed in late 10th early 11th century C.E, the first temple to be constructed wholly of sandstone. Then transfer to Siem Reap Airport for departure to next destination by evening flight.
Prices are in USD, per person
Validity: From 01 January 2018 To 31 December 2018

| Hotel/Group | 2 guests | 3~4 guests | 5~6 guests | 7~8 guests | 9~12 guests | Single surcharge |
| --- | --- | --- | --- | --- | --- | --- |
| 3 Star | 407 | 378 | | 344 | | 121 |
| 4 Star | 440 | 412 | | 387 | | 155 |
| 5 Star | 558 | 530 | | 506 | | 277 |
Included
All prices are quoted in USD unless otherwise mentioned
Include full private A/C transfer during the trips
Include hotel accommodation based on haft twin
Include meals as indicated (Note: B = Breakfast, L = Lunch, D = Dinner)
Include admission fee at all indicated sight
Include tours with English speaking guide
Include 2 bottles of mineral water (500ml) and cold towel 2pcs daily
Tipping is at customer discretion.
Exclude
Exclude visa on arrival
Exclude domestic air ticket PNH-REP with airport tax (8$)
Exclude international air ticket & airport tax from Siem Reap with airport tax (25$)
Exclude travel insurance, personal expenses, etc
Exclude meals not indicated
Exclude price for peak season
Child Policies:
Child Twin sharing with 01 adult 100% of adult fare
Child with bed sharing with 02 adults 80% of adult fare
Child without bed sharing with 02 adults 50% of adult fare
Planning a trip? Ask us here
Related Tours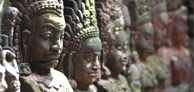 Explore Cambodia Tours
Price from 415 $US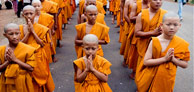 Angkor Wat - Cambodia Highlight Tour
Price from 404 $US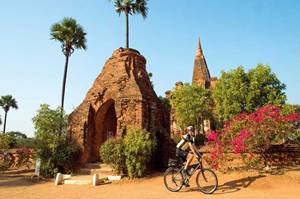 Siem Reap Cycling Tour
Price from 399 $US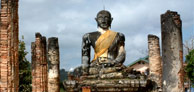 Khmer Temples Explorer
Price from 250 $US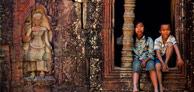 Angkor Stopover
Price from 165 $US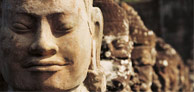 Angkor In Style Cambodia
Price from 315 $US