Top 10 Cruises in Halong Bay for 2018
Halong Bay is one of the best travel destinations in Vietnam and exploring the bay with overnight cruise program on a junk is a smart choice. Here is the list of best 10 Halong Bay cruises rated by our customers and we suggest our customers use them in their tours to Halong Bay in 2018.
Read more:
1. Bhaya Cruise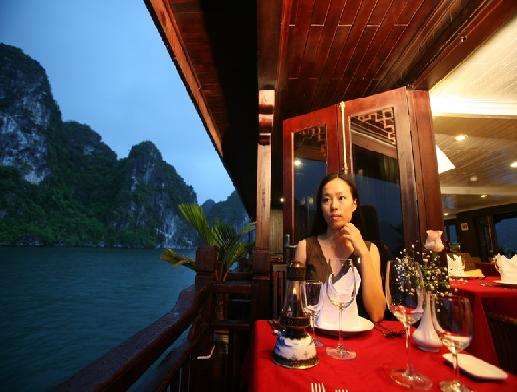 Halong Bay is a legendary world just waiting to be explored. Bhaya Cruise combines oriental style with contemporary luxury. Together they are the perfect recipe for an enchanting and relaxing holiday. In 1917, Emperor Khai Dinh plied the waters of the Bay in a wonderful wooden junk. Almost a century later you too can embark on a voyage through time in a ship recreated from the original designs and with impeccable service fit for a King. Reside in one of 40 luxurious cabins or suites, wine and dine in style and enjoy a relaxing or exhilarating array of onboard activities. The choice really is yours!
2. Pelican Cruise

Pelican Cruise
When talking about the best Halong Bay cruise recommendation, you should not miss out Pelican Cruise – A new cruising company launches its services to offer a pioneering new generation of vessels with both uncompromising quality and safety standards.
When it comes to discovering the magic of Halong Bay, tourists' expectations are those of a luxurious and safe experience in order to admire the most relaxing way the archipelago's tremendous scenery.
As for the luxury standards, Pelican Luxury Cruise while 3 similar Pelican boats, each of 22 cabins. Including bar and restaurant and a sun-deck will provide guests luxurious and 5-star experiences.
3. Dragon Legend Cruise

Dragon Legend Cruise
Each of the 24 spacious, wood-paneled cabins of Dragon Legend Cruise has been luxuriously designed for the comfort and enjoyment of our guests. The beautifully presented furnishings in each 26.5 sq.m cabin are influenced by traditional Vietnamese culture and comprise a collection of authentic, handmade art from different regions throughout Vietnam (Chu Dau ceramics, Red Zao brocade, wooden statues…). The well-appointed, 9 sq. m bathrooms include bathtubs for a soothing seawater or fresh water treatment where guests can relax and gaze out on the Bay from a large window. Two of the cabins have connecting rooms to accommodate families.
4. Signature Cruise

Signature Royal Cruise
Halong Bay Cruises – Signature Cruises are among the best 5-star junks. They pride themselves on providing their high-quality amenities and exceptional services to sincere guests and endeavor to make guests stay with us as pleasurable and relaxed as possible.
5. Paradise Luxury Cruise

Paradise Elegance Cruise
Paradise Luxury Cruise is a well-known brand name among Halong Cruises. Paradise Luxury I, II, III & IV were built according to the traditional Vietnamese junk design and present a lavish outfit blending in subtle harmony with the natural environment. The 04 Paradise Luxury offer 68 luxurious cabins and suites as well as an exciting array of activities to be enjoyed while experiencing the spectacular scenery of the Bay of Descending Dragons. Each vessel features a stylish restaurant and bar for an exclusive dining experience on the third deck. The top deck serves as a perfect place to enjoy lingering in the sunshine and discovering the splendid beauty of Halong Bay with a 360 view while benefitting from the presence of a Moonlight Bar, thus promising unforgettable and thoroughly relaxing moments. Celebrated for being the only Cruisers in Halong Bay to provide complete spa facilities with dry sauna, Jacuzzi, massages and beauty treatments.
6. Paloma Cruise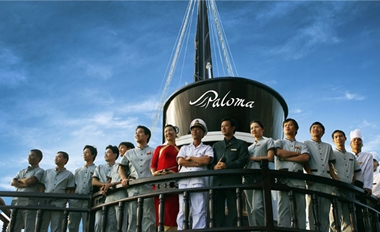 Paloma Cruise is one of the 4-star Halong Cruises. It is a wooden junk crewed by a professional, loyal and dedicated team. Spread over 4 decks she has 16 en-suite fully equipped luxury cabins, a bar with soft seating and plasma TV, gourmet restaurant, outside dining area, sundeck and luxury spa. Come onboard The Paloma. Be charmed by her exquisite luxury, intimate setting and unrivaled home from home service. An unforgettable way to witness the serene, calm setting of Halong Bay's exceptional natural beauty.
7. Royal Wings Cruise

Royal Wings Cruise
Royal Wing Cruise cabin is your eyes over Halong Bay. Their rooms featured a large sea-view bathroom and private balcony will ensure intimate privacy and comfort for you to enjoy cruising. The traditions and the modern blend harmoniously in distinctively handcrafted woodwork and boutique décor, which allows you to relax in style and makes the most of your Halong retreat.
8. Au Co Cruise

Au Co Cruise
In March 2012, Ha Long Bays premier cruise provider Bhaya Cruises launched two unique, new vessels which were dedicated to the Mother of Vietnamese Civilization. The Au Co Cruise was the first and only luxury operator to offer 3 days 2 nights cruise in the Gulf of Tonkin. Edgar Cayanan, Cruise Operation Manager: The Au Co plans to set new standards in terms of luxury. It will present a journey guaranteeing its guests an experience of a lifetime. The Au Cos daily trip will not only lead through the natural wonders of UNESCO's World Heritage Site Halong Bay, it will also discover the Bays of Lan Ha and Bai Tu Long. Cat Ba Island and its renowned National Park will also be revealed. The vessels combine state of the art safety standards and innovative Oriental Design, providing luxury and dedication in every detail. Each ship has 32 spacious cabins of minimum 20 square meters each. It also boasts private balconies and well-equipped bathrooms.
9. Aphrodite Cruise

Aphrodite Cruise
Aphrodite Cruise is a well-known brand for a cruise to Ha Long. The vessel is 41m in length, 9m in width with 17 cabins, Aphrodite restaurant located on the 3rd deck, private Massage and Spa and Sauna area. Guests will be able to select one of 17 wide cabins with modern facilities on 1st and 2nd deck. Foreign as well as domestic guests will be pleased with the many interesting leisure activities, and the glorious splendor the Bay has to offer, ensuring our guests have the most memorable time. Sipping a glass of fine wine at the bar, and tantalizing the taste buds to the local Asian dishes or European cuisine served while you cruise the Bay. On the 4th deck, guests can watch the sunrise, bathing under the sunlight of the dawn or watch as the sun sets on the horizon while relaxing and taking in the scenic wonders of the Bay.
10. Indochina Sails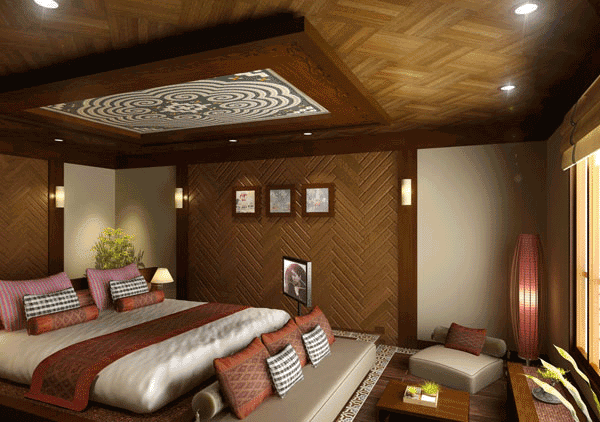 Indochina Sails
, or Junks, are built in Vietnam, utilizing local materials and the handiwork of skilled shipbuilders, craftsmen, and artists. As in the days of old they are built entirely of wood. The wood featured in the interiors is called 'go huong', which translates as aromatic wood; it is a highly durable and beautifully grained wood which adds to the rich and warm character of the boats.
Each of their boats features spacious, well-appointed cabins and suites with large en-suite marble bathrooms, a large sundeck with comfortable lounging furniture and an elegant dining room and bar. They have designed and fitted their boats to international standards while maintaining traditional junk styling, creating the perfect balance of modern comforts and nostalgic ambiance.
Start planning your tailor-made Vietnam tour by contacting one of our specialists…